Jane Oostlander
event planner , wedding planner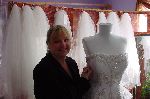 Chilliwack, BC
604-793-8336
everafterbridal@shaw.ca
From your wardrobe to your weddng day we take care of you from beginning to end.
I have always beleived that from the moment the question is answered "Yes" that the journey should be a special enjoyable experience for the couple. From the Bride trying on her first gown to the couple thanking their guests for sharing in their special day. What better way to help couples do that, than to help make their vision become a reality, while helping alleviate the stress associated with the big event.
Services
Bridal Gown/veils Sales
Bouquet (silk) Sales
Wedding and Event Planning whithin the Frazer Valley
(Maple Ridge, Mission, Abbotsford, Agassiz, Chilliwack, Hope)
Please contact us for a full description of the Wedding Planning Services provided.