Symone Saul
wedding planner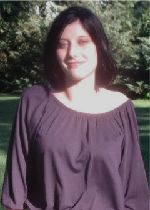 Pittsburgh, PA
412-692-1071
symonems@gmx.com
Perfect, every minute.
Just because you're on a budget, it doesn't have to show. My personal goal as a wedding planner is to create weddings that are the fairytale you've dreamed of, without bearing the expense of royalty. I approach every wedding as an opportunity to express my creativity and your uniqueness, creating weddings with not just a personal touch, but a personal tone reflected in every detail. I truly believe that, no matter what the budget, you deserve a wedding you will remember not just as the perfect day, but as perfect, every minute of that day.
After studying Business and Hospitality Management in college, I decided to obtain my certification as an International Wedding Planning Professional from the QC School of Wedding Planning. Shortly after, I will continue my education by adding certification as an Event Planner. Previously, I have worked as a catering director and coordinated many upscale events for various corporate and private clients. I have always loved watching my months of hard work culminate into a memorable, beautiful occasion. The pride and satisfaction I get from seeing the joy on guests' faces when everything goes off without a hitch made me realize that weddings are a natural next step for me. There is no greater art or passion than the beauty of a perfectly executed wedding day, and it gives me great honor to take part in creating these masterpieces.
Services
Complimentary Initial Consultation: We will meet to discuss your dreams and ideas, a preliminary budget, and create a personalized package for any services I will provide. Payment options will also be decided, based on an hourly rate or a percentage basis, according to your needs and budget. There is no requirement to use my services in order to receive a consultation.

Whether you need a full-service planner joining you every step of the way, day of coordinator, or a la carte services, you decide how much or how little I should be involved in the process. My goal is to be flexible to your needs so the following are examples of available options:

*Vendor referral/booking/negotiations/ordering
*Budget development and management
*Theme and design consultations
*Scheduling of and accompaniment to vendor appointments
*Planning pre/post-wedding events such as
showers, rehearsal dinner, etc.
*Invitation stuffing/DIY projects/Welcome baskets
*Guest list and RSVP tracking
*Attendance at pre/post wedding parties and events
*Honeymoon planning and booking
*Assistance obtaining marriage license/name changes
*Ceremony & reception timelines
*Bridal party and guest mediation
*Expense tracking and payment distribution
*Set-up/decoration of venues
*Take care of clean-up/move gifts/deliver dress to cleaners
*Destination wedding planning
*and much more...

All packages will include 24 hour phone/email access, vendor contract reviews, bridal emergency kit, and day-of assistance.