Laura Barlow
wedding planner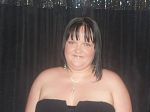 Manchester
laurabarlow_iwpp@hotmail.co.uk
A FABULOUS WEDDING AWAITS YOU!
At Inspirational Wedding Planning by Laura, my goal is to give you the wedding you have always dreamed of.
A wedding that reflects your unique personality and style.
A wedding that you and your guests will remember for many years to come.

I am 28 years old and i have a passion for planning and Weddings.
I am reliable, self motivated and organised and love new challenges.
I pay attention to every little detail to make sure my planning is as perfect as can be.

No wedding is too big or too small.
Experience i have:

I have now qualified as an IWPP - International Wedding Planning Professional.

I have also had the experience of organising my own wedding in 2007 and with much success, it turned out to be a fantastic day. I had 80 guests during the day and 150 guests at night. My guests still talk about my wedding as it was such a wonderful, memorable day.

I have other planning experience as i have planned the following:

* Hen & Stag nights
* Office Christmas partys for groups of 20 and above
* Christmas & Birthdays for groups of 10 and above
* New Years Eve party nights for groups of 10 and above
* 18th & 21st birthday partys
* Other partys, Special Occasions and Events
* Group Holidays
Services
What i can offer

I will take the stress away from the client and handle all or most of the details involved in planning a wedding.
I will provide assistance, knowledge, ideas and resources through every step of the planning stage.
I want to make your experience in planning your wedding as exciting and enjoyable as possible.
I will liase with you and your families and work to budgets to give you the day you want.

My mission is to provide professional, helpful, out of hours times to suit you and negotiate best prices with vendors and to supply resources and information to you.
To make your wedding day as special and memorable as possible and helping you stick within your budget.

No wedding is too big or too small, i love a challenge and would like to help make all your wedding day dreams come true.

I will always go the extra mile to make sure the weddings i plan are special and memorable for the couple.

Unlike most wedding planning businesses Inspirational Wedding Planning by Laura offers out of hours wedding planning services to suit the client, every little detail is important to me when planning a wedding and i also offer extras that not many wedding planning businesses can offer.

* My first consultation is FREE OF CHARGE and no obligation to hire after our first meeting.

* I can offer cheaper prices as i work on my own and have no overheads

* I can hold consultations with my clients in the comfort of their own home at a time to suit them (out of hours service, not just the usual 9 to 5)

* I can transport clients to meetings with vendors

* I will be a friend and a professional

Some of the Packages/services i can offer range from a one off consultation/take home information package through to the complete wedding planning services package.

**PLEASE VISIT MY MAIN WEBSITE FOR FULL DETAILS ON THE PACKAGES I CAN OFFER**

I can also provide tailor made packages to suit the clients individual taste and personality.

***THE FIRST CONSULTATION IS FREE***

This will be a discussion with the Bride and Groom to discuss their requirements to see what type of wedding they would like to have, i.e: Theme, Location, Number of guests, Budget etc.
I will put some ideas across and note each of the couples requirements.
Should you wish to hire me. I will then create a proposal for our next meeting.