Julie Hatley Creative Designs By Julie
event planner , wedding planner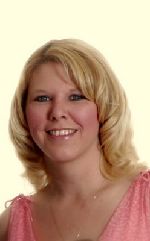 Mount Pleasant, NC
704-634-0537
juliehatley@creativedesignsbyjulie.com
Turning Your Special Day into Spectacular Memories!
Congratulations on your engagement! I am now certified through the QC School of Wedding Planning, & experienced as a wedding & event planner. In addition, I am the owner and designer of Creative Designs By Julie & "Let 'em Eat Cake!" Delectables and Custom Cake Design.

Recently married, I planned every aspect of my wedding including of my own floral designs, even my bouquet. I love designing and customizing florals & table arrangements, wedding cakes & everything in between for each of my clients. I will do whatever it takes to design the wedding of my clients dreams, that is a promise...& I will do that for you, too!
I have coordinated several weddings without the benefit of having been certified. I decided to take the QC course because I know there is always something I can do better!!! I have now received my certification, and worked very hard to make that happen. Now, I do whatever it takes to ensure my clients will look back at their day and know in their hearts that it was the most beautiful and wonderful day that it could be, and I will do that for you, as well. You'll see in my portfolio that my photos are of my own wedding with my wonderful husband, Brian, you will also see photos of my my favorite wedding, and samples of all of my work. These are only samples of what I have done, I could not possibly put everything on here! I urge you to visit my website, and then contact me for your free consultation. I will be happy to bring my samples and meet with you wherever you are most comfortable.



It doesn't matter how limited your budget is. Every bride has a limited budget!! And I can make the most of it, and you get to enjoy the planning as we work together, instead of worrying about all those details. I will work within your budget, as it will not increase by having the benefit of a qualified and experienced professional...it may actually decrease, as I have substantial relationships with other wedding vendors that will allow me to make the most of your hard earned money. My fees become part of your budget, but will not sacrifice the integrity of your wedding. In addition to the variety of services I can do for you, I can coordinate also your music, make your bouquet, even make your table arrangements! That's part of my design, as I have designed all of the decor for every wedding I've had the pleasure of being a part of. That will make room in your budget for other important things, such as the dress you couldn't quite afford, or a band instead of a DJ. Doesn't that sound just like what you need? Getting married to the one you love is one of the most important events you'll ever experience, and I'll be the one to make sure that it is the best it could possibly be.

I look forward to talking with you soon! Again, please contact me for a free, no obligation consultation.

You can also find me on Facebook, Wedding Wire, MerchantCirle, Gathering Guide, PartyPop and Eventective!

Again, congrats on the beginning of everything new and exciting! It's a wonderful time in your life...don't stress it all away!
Services
My services range from wedding day coordinating to full service coordinating. You can also choose customized coordination as well. I will be happy to meet with you to help you decide what you need, design a package for you, if what we offer doesn't not fit your needs. In addition, we can also add from our custom coordination to any of the packages, whatever you need, we will take care of it for you.

I've also added a new service to my various packages:
Economy Wedding Services
This is for the couple who has a very tight budget, and a very tight schedule...and whose got their eyes on the prize! These packages are "all inclusive" meaning, I can provide everything but the dress! Your cake, your flowers, your decor, even your cake plates! Even if you need a veil, but aren't interested in purchasing it, I can provide it-starting at $225! Go check it out today, and see if that is what you are looking for.

I also am an experienced custom cake designer and custom floral designer and those services are available to you, as well. If you are just looking for someone to not only design a beautiful wedding cake for you, but to make a DESSERT of your wedding cake, then you are in the right place! My confections are absolutely wonderful to eat as well as beautiful to look at!

If you are thinking about planning an event, just getting started, or well on your way through it, then contact me! I will plan an event for you that will turn your special day into spectacular memories!

WEDDINGS!
Birthday Celebrations
Bridal Showers
"Jack and Jill" Showers
Baby Showers
Graduation parties
Reunions
Housewarming parties
Fundraisers
Retirement parties


I have various packages to choose from. You can check out my website and view all the details!


www.creativedesignsbyjulie.com
Testimonials
Julie made our wedding as worry free, organized and best of all as beautiful as it could have been. In addition to the planning aspect she also gave us a personal touch with her wonderful music which added a touch of class to a beautiful lakeside, outdoor wedding. Through the chaos of trying to get everyone where they needed to be, she remained calm, cool and collected maintaining a level of professionalism seldom seem at weddings. The music, timing and organization worked perfectly to give my wife and I a day that will never be forgotten. I highly recommend her to anyone that would want an unforgettable, hassle free wedding that will stay with you for a lifetime! Thanks again for a beautiful wedding!
Bryan and Nicole Kelley Wedding Date: 4/28/09
"Julie, thank you SO MUCH for making my bridal shower such a wonderful day! The cake and the flower arrangement were just beautiful! Everything you did meant so much to me"
Lesley P. 4/27/09