Dianne Garcia
wedding planner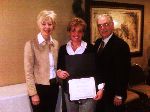 Covington, VA
540-691-4896
eelegance1@aol.com
Savvy brides-to-be recognize the importance of designing a wedding to compliment their own personal style while keeping within their budget.
Dianne S. Garcia, professionally trained and certified Bridal, Etiquette and Tea Consultant has been in the wedding business since she was a teenager working in a local Bridal shop with an ABC consultant(Association of Bridal Consultants).She has been coordinating weddings since 1981 seeing many changes, styles and fads over the years. Today she still focuses on listening to the bride, groom, and the mother of the bride and mother of the groom when applicable. Listening to the wishes and talking about their dreamm wedding is the only way to ensure the wedding is "everything they want" and more.
Dianne received her training from the QC School of Wedding Planning; Etiquette and Leadership Institute, LLC in Athens Georgia; Dorothea Johnson productions, founder of the Washington School of Protocol and Shelley and Bruce Richardson, Lexington Kentucky. She holds a BS degree in elementary education and has devoted her educational career to being a devoted advocate for children, youth and young adults of all ages. Dianne is the founder and director of Everyday Elegance, LLC in Covington, Virginia. Everyday Elegance has a commitment to quality and believes that mutual understanding and respect have the power to change the world, and this commitment shares an educational alliance dedicated to promoting civility.
Services
Savvy brides-to-be recognize that weddings require countless details. From "Yes" to "I Do," Everyday Elegance is here to assist you with all your wedding planning needs. Everyday Elegance recognizes the importance of designing a wedding to compliment your own personal style and budget. Everyday Elegance eliminates the uncertainty and anxiety related to your wedding while assuring a quality presentation which runs smoothly, efficiently, and flawlessly. A wedding consultant is a must for every bride.
The extent of our service is completely customizable to your needs and budget. The two most popular packages are;A) the Full Service Package and B)The Directing Package.
FULL SERVICE – This service provides the bride and her family with a professional wedding and etiquette consultant throughout the wedding planning process. This service allows the bride to experience an organized, time efficient, and stress free approach to planning her wedding. The Full package includes the following services; religious, civil or cultural weddings – budget planning - choosing the perfect venue and theme – choosing save the date cards, invitations, reception,respond cards and Thank you notes - choosing the; florist, caterer, photographer/videographer, celebrant, musician and other vendors – wedding favors and decorations – wedding attire – wedding receptions – pre-wedding events – destination weddings – paper work to be completed.
DIRECTING – Once most of the wedding planning has been completed, a professional wedding and etiquette consultant will tie up loose ends and orchestrate the events of the wedding day.
Please call today for your consultation. Everyday Elegance is waiting to service you with the professionalism and elegance a savvy bride and groom deserve.
Testimonials
We were so blessed to engage Dianne's services for Haley and Patrick's wedding ceremony. Her concern for the couple's wishes, as well as attention to detail and knowledge of military protocol resulted in a well-organized rehearsal and flawless ceremony, truly a special day for the entire family. - Jennifer Unroe, Mother of the Bride
For a well-planned, organized, and beautiful wedding Dianne Garcia of Everyday Elegance is invaluable. She listened to what we wanted, offered suggestions, and then put the plan into action. We would not have been able to have such a large event without her help. Her creative talent and ability to execute everything --from the rehearsal, through the wedding and reception, allowed us to relax and enjoy the celebration. As my daughter said, "I got everything I wanted!" Debbie Williams--Mother of the bride Ashleigh Nickell--Bride