Stokesay Castle
Emily Kurz
event planner, wedding planner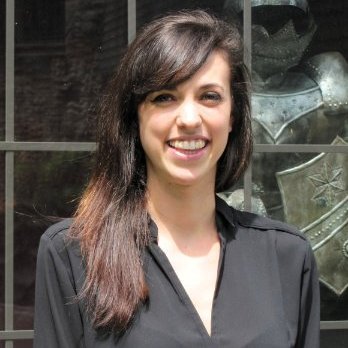 Reading, PA
610-375-6100 x25
ekurz@stokesay.net
A Fairytale Wedding
I am an enthusiastic and motivating asset to the Stokesay Castle. I work primarily with weddings, but I have a large understanding of the Sales Industry. I have been working in the sales industry for about 10 years and my experience reflects accordingly. I work closely with the sales and marketing teams at Stokesay Castle.
I went to Shippensburg University for Psychology and Sociology but my passion is in event planning. Studying these majors has helped me become more personal and understand the specific needs required for any event. I have worked at multiple venues in Berks County and the surrounding areas. My connection to the community continues to grow on a daily basis.
Services
My personal approach is very unique and hard to find within the service industry. I spend time with my clients, getting to know them and what vision they are looking for. From the moment they book with me until the moment their event is over, I work closely with multiple members of their inner circle. By the time a bride walks down the aisle, I know her favorite color, favorite flower, favorite movies and songs, and I know what she will like and what she will not. A majority of the day of decision making is done by myself and always with the bride in mind. I take pride in knowing that my clients will be at ease and relaxed during the day of the event. My stress relieving attitude and demeanor leads to nothing short of a successful event.
Testimonials
AMAZING. What could be better than getting married in a castle? Getting married at Stokesay Castle! It was over the top perfect from the decor to the wait staff to the food! Everyone there made our day as perfect as possible! The wedding coordinator, Emily, was incredible! She was super organized and helpful but also very nice and a pleasure to work with! We would highly recommend Stokesay for ANY event!
Kristin on WeddingWire.com
I had my ceremony and reception at Stokesay Castle, and I could not have asked for a more perfect day. My fiancee and I planned our wedding for about 2 years from afar (we live in Texas but originally met in Pennsylvania). We started our planning with Lauren, and she was absolutely wonderful. However, I came to find out that they hired a new coordinator, Emily, in the middle of my planning process. A bit freaked out, I wanted to set up a meeting with Emily to make sure everything I originally planned was still good to go. From the first meeting we had with Emily all the way up until the last dance the night of the wedding, the services Emily and Stokesay provided us were unmatched, and we could not imagine a more perfect day for our wedding. No matter the circumstances, Emily always level headed and assured me that everything would go smoothly. We dropped off all of our decor the night before and Emily and her staff set it all up perfectly. My bridesmaids and I were well taken care of in the bridal suite getting ready the morning of with mimosas, a cheese and cracker tray, and lots of delicious wraps! Emily and the staff at Stokesay truly set the bar for what a wedding should look like.
Chelsea on WeddingWire.com
My new husband and I were extremely happy with our wedding reception at Stokesay Castle. We were some of Emily's first couples, and I appreciated her attention to detail and desire to help us relax and feel comfortable. She offered to do many little things for us to make our evening and days leading up to the wedding more simple. Overall, Stokesay is beautiful and well-run. The food is good and we felt like we got great value for our money. One important side note is that Chris Polk, the baker on site, is exceptionally talented and deserves all the credit in the world. His cake was excellent and beautiful - it's exciting to see someone enjoy his work so much!
Katie on WeddingWire.com
See All Testimonials