Tia Ming-jean-baptiste
wedding planner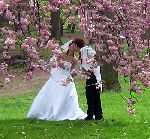 Philadelphia, PA
215-220-7625
Tia@colormefancyweddings.com
Come To Be Colored Fancy.
Hello all,
Welcome to Color Me Fancy. I am a young professional who is set on making your dreams a reality. If you join me, I will asure you that you will be well taken care of. You won't have a single sting of worries. I am dedicated to my work, and making a good name for myself and my company. My dream is to one day be on a featured wedding program on TLC.
Maybe we could be on the program togehter!
Nothing makes me happier than to see two people in love. I love the fact that I get to be involved in that feeling of passion and the power of what a coples love can do. I am a former bride,and I don't want anyone to bestreesed out like I was.
Born on May 15,1983 at my uncles wedding. I was destined to be a wedding planner. May has the most gorgeous weather to be married. So it was only natural for me to be a consultant. Born in the Pennsylvania area, I was always into love stories. I used to watch The Young And The Restless, not your tipical healthy love story. As I got older stories like The Little Mermaide made me wish to be in love. Finally on November 17,2007 I married my prince. My wedding was not the best, and I was so stressed out. At the end of my wedding day, I made a vow to myself that if it were up to me, no bride would go through what I did. She will be treated with the most care. Her wedding party will be supportive and helpful.
I promise that no bride will feel alone, because I will be there to pick her up in spirit and get her down that isle to the man of her dreams.
Services
I offer wedding and event planning services. I can cordinate a small office party, or pull off a cellibration for a grand wedding.