Nikki Utley
event planner , wedding planner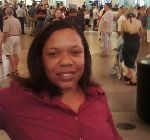 Las Vegas, NV
702-475-1169
nikki.utley@gmail.com
Celebrating Life One Event at a time!
Hello, my name is Nikki Utley. I am an Event Planner serving the Las Vegas Metropolitan and surronding areas. The dedication to integrity and service excellence that I strive for will set me apart from the others. It is my goal to make your event truly memorable and one of a kind. Everyone loves a celebration, but few people realize the amount of time and resources that go into making an event outstanding. And that is exactly how I like it! The only concern for you and your guests should be to enjoy yourselves.

Maybe you have a special occassion coming, or perhaps a corporate event that you are responsible for bring together?
If so you can save yourself time, money and energy. Let me use my time, energy and resources to get started on a plan for your event, execute that plan and leave you with unforgettable memories of a flawless celebration!

Contact me today for a free 15 min consultation!!!
Services
Weddings
Anniversary Celebrations
Birthday Celebrations
Theme Parties
Corporate Trainings and Holiday Events
Religious Rites
Funerals