Erin Mackenzie Brooks
event planner , wedding planner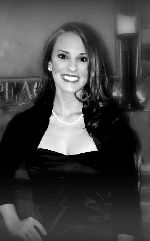 Nashville, TN
636-236-8915
kenziecoproductions@gmail.com
An honest love story never has an ending. Your wedding day marks the beginning of your whole heart for your whole life. Whether the day is f
Established in 2011, Kenzie Co. Productions is one of the newest event planning companies in the Nashville area, but owner Erin Mackenzie Brooks is not new to the event industry. Her professional experience over the past four years includes event coordination, menu planning, and interior design. Erin has planned events including weddings, corporate events, fundraisers, social gatherings, and showers.
Starting her own full service event planning company is allowing her to put her expertise to good use in producing events of all styles and sizes in Nashville and beyond. Erin's infectious personality allows her to establish close relationship with the best vendors and enables you to gather the absolute ideal team of professionals based on your vision for your big day. Her organizational skills and focus on detail combined with her contagious enthusiasm and passion for all things wedding and event related are unmatched and will guarantee that your event planning process will be enjoyable and successful from start to finish.
Services
Whether your Nashville event is a ten-person dinner at a winery, an off-site corporate event, a fundraiser at Centennial Park, or a wedding reception for 500, we can help you plan the event of your dreams.

We'll coordinate all the components of that special occasion and serve as your personal director so that you spend your day enjoying your own event rather than managing. Our job is to take the stress off of you.

Kenzie Co. Productions offers several Wedding Packages ranging from management and coordination on your Rehearsal and Wedding Days through to our complete involvement from start to finish. Along with any size wedding, we can also create and manage corporate, private, and fund-raising events of all varieties.

Month-of-Wedding Coordination
Includes four planning consultations prior to the wedding to discuss your vision and priorities. We provide on-site direction and coordination on rehearsal and wedding day, marriage ceremony and reception. This package will ensure that all the details you have coordinated are flawlessly executed so you can enjoy your big day, stress free.
Month-Of Plus Design Wedding Planning

Includes complete wedding design coordination including event plan and design specifics. This may include but is not limited to, floral, lighting, décor and finishing touches that will make your event reflect your unique personality and style. Assist you in creating food and drinks menus that match the theme and style. Coordinate stationary and work with your floral designer, lighting specialist, stationary designer and specialty rentals to act as the primary liaison with hired design vendors throughout the planning process.

Partial Service Wedding Coordination
Includes six consultations prior to the event, vendor referrals, customized calendar and checklist, management of rental order, full coordination of two vendors of your choice and on-site direction and coordination on your rehearsal and wedding days. This provides extra guidance throughout the detailed planning process to ensure everything has been covered and a professional has answered all of your questions.

Full Service Wedding Planning
Your wish is my command! Unlimited telephone, email and personal consultations; creation and management of calendar and budget; primary liaison for all vendors. This full service package is for those who want to make the right decisions about caterers, music, florists, etc. and have us find you the right candidates based on your vision for your wedding. We will manage your wedding down to the finest details.

Have a special wedding request and don't see it listed? Do not hesitate to contact us! We are always willing to accommodate our brides and any unique circumstances that may arise! It's your special day and we are here to make it as stress free as possible.

Corporate Events
Is your company planning a fundraising event or team-planning weekend? Whether you are non-profit organization needing some advice planning a unique event or a larger business wanting to treat your clients to a weekend of Nashville's finest activities. Perhaps you'd like to host a graduation party, baby shower, retirement dinner...the reasons to celebrate are endless! Kenzie Co. Productions can make your vision a reality.
Testimonials
"Erin was extremely accommodating, keeping our wants and needs in mind. She was realistic, detail oriented, organized and always one step ahead of us. I would have been lost without her on my rehearsal and wedding day!"
Jenn- Bride
"Kenzie Co. Productions was a life saver. Erin and her team have the energy of Energizer Bunnies- the never stop and are so cheerful through it all! She kept my spirits up and my stress levels down. Thank you Kenzie Co.!"
Maria- Bride
"I was skeptical about a non-profit with paid staff needing to hire another company to run an event, but Kenzie Co. won me over. They put on a fundraising event for us and we raised well above our goal. Guests had a wonderful time and are already asking about how to contribute to next years event. The evening ran flawlessly! Erin was collected, focused, and always wearing a smile. We will be using them again very soon."
Non-profit in St. Louis area