Andrea Obert
event planner , wedding planner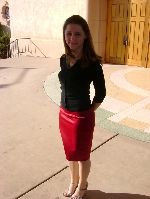 Mesa, AZ
602-741-8456
Andrea@memories4alifetime.net
Wedding and Event Planning Services for every style and every budget!
Once upon a time two women had a dream. A dream of running a business, a dream of helping people and a dream of everyday challenges and excitement. Once upon a time, "Memories for a Lifetime" began.

We specialize in working with every client to ensure the day of that client's dreams. We understand that people don't have the time to really sit down and plan events like they used to... that's where we come in. Let us take the stress away from you. We can handle as much or as little of the planning and executing process as you feel comfortable with.
My name is Andrea Obert. I have been working in sales since 1999. From this experience I have a skill set that is perfect in this business. I am a great listener, I am a quick thinker, I have excellent negotiating and communication skills. Most of all I am confident that I can make any event a success.

I have a Bachelors degree in Interdisciplinary Studies, with concentrations in Business and Communication. I have a Master's degree in Management and am certified in wedding planning!
Services
Our business works with both weddings and other events such as fundraisers, corporate parties and reunions. We have packages available starting with the most extensive, planning every detail of you event, down to the most basic, helping with the execution of the final day. We can even customize a package for you if you prefer.
Testimonials
Nick and I keep getting calls and emails telling us how enjoyable our wedding was. This was the direct result of the organization, dedication, hard work, creativity, and passion that Andrea put into our wedding. It amazed me how she cared just as much as we did about the minute details to make our wedding a real representation of us as a couple. She took the time to get to know us and what our vision was for our wedding. Andrea turned our dreams into reality.
Nick and Loren DeFelice July 3, 2009
Andrea was a lifesaver with my wedding, I was in Arizona and she was in New Jersey, but the wedding was in Washington. She coordinated everything from out of town with just a few visits to make sure everything was in place. I couldn't have done it without her and all of her hard work. Not only did she create a beautiful wedding, but she also kept it well within budget. Thanks Andrea!
Crystal Bullard