Trish Glaspie
wedding planner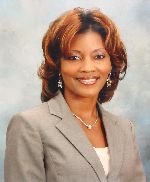 Memphis, TN
901-626-6354
glaspiepatricia@yahoo.com
Why worry about details or leave anything to chance when you can have your Wedding By Design.

Congratulations on your engagement! You are about to embark on a new exciting journey of life. I hope to help make your special day as memorable as possible for you and the lucky groom. Weddings By Design ensures that your family and friends will be entrigued by the events of your special day. I am a International Certified Professional Wedding Planner who is committed to providing professionalism, quality service and creativity. Why leave anything to chance when you can have it by design?
Weddings By Design service each client with integrity and excellence. My team and I are totally dedicated to ensuring the highest level of honor and distinction which propels us to stand tall among the rest.

Weddings By Design is available for the bride and groom who prefer to let an expert design and plan their special day.

Let Weddings By Design handle all the arrangements so that you, your family and friends can fully experience the day without having to worry about the details.
Services
Planning a wedding can take you on a roller coaster ride full of joy and excitement, then stressed beyond all means. There are hundreds of details that must be taken care of before you walk down that aisle. Weddings By Design offers a variety of services to assist you with every wedding need.


The following 4 packages outline the most popular services I offer:

Individual Consultation:
For prospective clients who are actively considering the hiring a professional wedding planner to manage their event and wish to thoroughly discuss their wedding plans. Your consultation is designed to be the first "blueprinting" step towards the creation of an amazing wedding celebration and during this meeting, we give you the unique opportunity to clearly articulate and express your wishes to us. In turn, we offer realistic, honest advice based on our years of knowledge and expertise as well as our many revered partnerships with excellent service providers on a local and nationwide basis.

Upon conclusion of your Consultation, you will be provided with a customized quote for services as well as the opportunity to move forward with securing Premiere Event Management as your wedding planner. Your fee is payable in cash only and as our way of saying "Thank You" for entrusting this special occasion to our company, it is credited to your final payment at the end of the planning process.
Consultations are by appointment only.



Platinum Plus Wedding Package (Full Wedding Planning)
This package is comprehensive in planning out every single detail of your wedding from start to finish, including the "Full Day of" package. This package is ideal for those who don't have time in their busy lives to research reception sites, ceremony sites, vendors, or budget their wedding overall. At Last-Wedding Services will be there every step of the way to meet and exceed all your wedding needs! This package also includes the following:


Vendor referrals, recommendations, and negotiations (i.e. photographers, videographers, florist, DJ)

Assistance with ceremony and reception site venue

Invitation and program design

Rehearsal dinner guidance and planning

Full comprehensive wedding budget

Transportation recommendations for bridal party and family

Hotel accommodation suggestions for out-of-town guests

Also includes items in the Gold Package



Gold Package Wedding Package (Full Day of Coordination Wedding Package)
This package, also referred to as the 'premier day of coordinating package' is ideal for those who have planned out their wedding, but need someone to coordinate all the details on the day of from the moment the bride is getting ready with her bridesmaids, until the last guest leaves the reception.


Bride's dressing location attendance – I will be there to make sure all vendors (i.e. hair stylist, make up artist, photographer, videographer) arrive on time to your dressing location, and more importantly, ensure that all wedding day jitters are taken care of!

A Comprehensive Itinerary of the day of - It will be my job to make sure everyone involved stays on track and on time throughout the day with this comprehensive itinerary that I compile for you, from the moment the bride starts to get ready until the last song is played. And more importantly, my job is to make sure not one special moment is missed!

Bridesmaids and Groomsmen Itinerary - This is essential in keeping your bridal party on time to all locations and events especially those who are flying in from out of town.

Detailed instructions for ceremony and reception setup/cleanup - Who is in charge of packing up your unity candle or any items used in the ceremony? Who is in charge of handling your money box and gifts? I'll make sure to finalize all these details.

Wedding contact list- With this comprehensive contact phone and email list of bridal party, family members involved in special events, and vendors, I can make sure all involved arrive on time to their locations/events.

Ceremony rehearsal attendance – My assistant and I will make sure your bridal party and parents of the bride and groom know their cues and order for the processional and recessional.



Mini Management Wedding Package (Day of Ceremony and Reception Wedding package)
This package includes the full "day of" coordination wedding package items, with the exception of the bride's dressing location attendance. My assistant and I will arrive an hour prior to the start of the ceremony.

All packages include unlimited phone calls, emails and meetings. I will also have an emergency kit on hand for any unexpected events that may occur throughout the day. There is no additional charge for the meetings, phone calls, emails that are necessary to prepare for the wedding. A 25% deposit is required to reserve your wedding date. Remaining balance to be paid in full 10 days prior to event date.