Theresa Douglass
wedding planner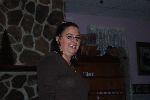 Saint Leonard, MD
410-474-5215
eng28med3@yahoo.com
It is going to be a great day!
I am a 30 year old mother and my husband is a dc firefighter. I am about to come up with differents ways of looking at the things you want and making it work in your big day. I planned my wedding in 4 weeks and I had a great time doing it. I can help you see things in a different way that will make all your dreams come true.
Services
I can help you plan your wedding and I am also a photographer.