Lisa Valentine
wedding planner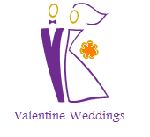 Burnham-on-sea
07771902377
lisa@valentine-weddings.co.uk
Taking the stress out of your day!!
Welcome to Valentine Weddings, if you're on this page, then congratulations are in order!
However, as you are no doubt finding out, planning a Wedding, or any large event can be stressful and time consuming.
Although it is a daunting task, I'm here to help, I can plan your wedding from start to finish, or just take over the reigns on the day, whatever you need, I can help take the stress out of your day! You are supposed to enjoy it after all!
I started planning weddings a little by accident, a friend of mine had planned most of her day, then the venue fell through—Bridesmaid to the rescue! We pretty much had to start from scratch and all at quite short notice. Then after planning my own, whilst holding down a full time job I realized how stressful it can be for the Bride and now I really wish I'd asked for help!
Before starting Wedding Planning I was an Operational Manager, I decided it was time to put my organizational skills to good use and do a job I enjoy!
I'm located in Burnham-On-Sea, but will be moving to the Oxford area later in the year, don't let that put you off!
I cover the Oxford and South West area and I'll come to you.
Services
Please see below for a list of services, this is by no means comprehensive, I can do as little or as much planning of your wedding as you like, you can be as hands on or hands off as you like, I'll even help you pick the dress if you want—your very own Trinny!!!
Give me a call for a free consultation and quote.

Consultation
We'll discuss your plans, I can give you a few suggestions, checklists and contacts.
Free!!

Supplier Consultation
Consultation meeting, we'll discuss your plans, I'll do the legwork and source 3 suitable suppliers for each service you need and suggest 3 venues for you to choose from.

On the day Coordination
You plan your day, hand over to me the day before, then stop worrying as I'll ensure everything runs smoothly on the day!

Planning Only
From when we first meet, I'll help you plan your day, then I'll make sure the suppliers are all on track and hand over to your 'designated driver' (usually the chief bridesmaid) the day before the wedding.

From Start to Finish
You don't have to lift a finger (maybe for your manicure!) This is the full service, planning and coordination, I plan your day, liaise with the suppliers, coordinate the day of the wedding and even arrange the clear up the day after if necessary!