Valarie Coles
event planner , wedding planner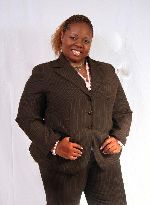 Fredericksburg, VA
540-446-4150
msvalariecoles@mystunningevents.com
"Turning your dreams into a beautiful, personalized, and memorable celebration.
Welcome! My name is Valarie Coles, CEO of "Creative Couture" Weddings & Events! I launched this business as a dream of mine to make every couple's entry into their "Happily Ever After" a memorable one. I also believe that every special occasion in a person's life should be celebrated to the fullest and shared with family and friends. I want to make sure that each and every client is able to do this and make it an event they will be happy to look back on even years after the event.

Another aspect of what I do also includes making the planning process for the event as stress free and enjoyable for my clients and their family and friends. Man
I am a certified Wedding and Event Planner. I have been planning both weddings and events since April of 2004. I have done events for guest lists of 200 to 1400. I have been certified with Penn Foster's development program for Professional Bridal Consultants and I am also registered with the Association of Bridal Consultants. I have worked with a wide range of budgets, ideas, and personalities. I want to put a personalized touch on your day that you will remember for a lifetime.
Services
Wedding Planning and Event Planning from beginning to end.
We are here to make sure every aspect of your wedding goes off as planned, this includes (but is not limited to):

* Bridal Attire
* Bridal Budget
* Transportation
* Catering
* Music
* Flowers
* Reception
* Honeymoon
* Rehersal Dinner
* Engagement Party
* Bachelor / Bachelorette Party
* Bridesmaid Luncheon
* Bridal Shower
* Decorations
* Much, Much more...

------------------------------------------------------

We are here to plan all of your special occasions including:

* Birthdays
* Baby Showers
* Graduation
* Retirement
* Annivarsary
* Going Away
* New Years
* Family Reunion
* Mardi Gras
* Girls / Guys Night Out
* Easter / Christmsas / Valentine's Day (any holiday)
* Luau
* Housewarming
* Superbowl
* Costume / Masquerade
* Cocktail
* Organization Fundraiser Event
* And much, much more
------------------------------------------------------
Service Packages

Platinum Package

* All Inclusive Services

Gold Package

* One Month of Services
* Rehearsal
* Day of Event Coordination

Silver Package

* Rehearsal
* Day of Event Coordination

Basic Package

* Day of Event Coordination

A La Carte Services

* You pick and choose which services you would like for us to perform for you!
Testimonials
This letter is in reference to Ms. Coles and her consultant abilities. Ms. Coles directed my April 12, 2008. She did a marvelous job. Any and everything that I asked for, she gave it her all to have it done. She took into consideration of what I wanted for my day. Ms. Coles attended each event that I had planned out before and after the wedding. I met with her prior to the wedding to discuss the details and she did not mind driving 2 hours to get everything in order. As far as my rehearsal/ceremony, she put her foot down and told everyone what they were going to do. Rehearsal and the ceremony went by swiftly and smoothly. She made sure that everyone knew what they were supposed to do before we left the church and everything turned out wonderful. My bridal favors were not completed. She took the time to put them together and have them ready for the bridemaids the next day. My venue did not set up my favors. She took the time to go to my venue after the ceremony, that ended around 3.p.m., 30 miles away, and set up 300 favors for my guests before 4:30. YES!! Sounds impossible doesn't it?? Not for Ms. Coles. She was definitely my angel on my wedding day. Without her, I believe it would have been a disaster but thank God she had it all under control.
Jamia Hines - April 2008