Jennifer Klett
wedding planner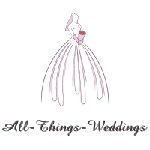 Oshawa, ON
905-903-1374
all-things-weddings@hotmail.com
All Things Weddings!

He's proposed, you've said yes! You've dreamed of this day all your life. Now it's here, where do you start? That
Congratulations on your engagement!

My name is Jennifer and for as long as I can remember I have loved everything about weddings.

I enjoy watching all the "wedding shows" on T.V. and learning "tricks of the trade" from the wedding planners on these shows.

I would love to be able to help you plan your special day! From the smallest detail to the largest detail.

I look forward to helping plan your dream wedding!
My Background

I currently work full-time as a medical stenographer. I am the mother of a wonderful little boy and little girl and step-mom to a great boy.

I have been married twice and thoroughly enjoyed planning both of my weddings. My first marriage, unfortunately ended tragically with the sudden and unexpected death of my husband. We had only been married for 2.5 years.

I met my current husband at a mutual friend's wedding and the rest is history. I truly believe he was sent to me by my guardian angel!

My first wedding was a modest sized wedding with the whole kit and kaboodle. I did mostly everything myself.

My second wedding was more of an elopement with just our immediate families in attendance. This was planned over the course of 6 weeks.

I have always been interested in being a wedding planner and looked everywhere for a course to take. I found one in Toronto, but unfortunately the timing was wrong for me and I preferred to find a course that I could do from home. Then while planning my second wedding, I accidentally came across the QC School of Wedding Planning and immediately signed up. I was coming to the end of my second maternity leave and wanted to do something in order to spend more time with my children. I immediately thought "this is meant to be".

I look forward to a very rewarding career doing something I absolutely love!
Services
My services are custom tailored for each couple.

Full Service Wedding Planning Services:

I can oversee every detail of the process from start to finish, including:

· Initial consultation to define your event needs and interests

· Budget planning and tracking

· Selecting and booking vendors and ceremony and reception locations

· Ongoing consultation and advice; ongoing coordination of vendors

· Defining color scheme, theme, and favors

· Advice on etiquette and protocol, time line

· Assisting with invitation design, printing and mailing and RSVP tracking


Day of Wedding On-site Coordination:

If you need help only on the day of your event, I can help you:

· Organize and direct the event flow

· Help/coordinate room decoration, setup, layout, and clean up

· Coordinate and pay vendors

· Meet and greet guests


A la carte Planning Services:

I can help you with any portion of your special day. Just give me a call to discuss any special needs or requests.

I can also work with any budget, with the goal of saving you money. My service fees can be charged by the hour, by the budget, or by the stages in planning.

I am located in the Durham Region, but for a small fee I will travel to your location, should that be outside Durham/Clarington area.

I offer a free half hour consultation to any couple who is interested in checking out my services!

My rates will range from hourly to a price based on 10% of your wedding budge, depending on how much service you require.

I can be with you every step of the way or just the areas you want.

I look forward to hearing from you!
Testimonials
I want to thank "All-Things-Weddings" (Jennifer) for your last minute help on my wedding day! You made me feel so much more prepared for any "disasters" that might happen (which never did). Without your kindness and support I would have been a basket case. LOL!
Carrie and Corey Hart