Kami Hairston
event planner , wedding planner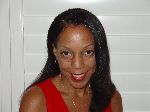 Los Angeles and Orange County, CA
(310) 766 - 0886
Kami@PlannedElegance.com
Every elegant event begins with a plan.
Hi, I'm Kami... I live in Los Angeles with my husband of three years and our 3 furry Shih-Tzu's. I have a 19 year old son who recently graduated from the U.S. Navy boot camp and is now stationed in Virginia. Besides being a Wedding and Special Event Planner, I am a Flight Attendant for a major airline. My flight schedule is very flexible which is really important because it allows me to work around my true passion...planning. I have a lot of free time when I'm away on layovers and that gives me the opportunity to do what I love to do most: Research and come up with new creative ideas.
Using my training and expertise, I pay close attention to details to make sure that your Special Event will turn out fabulous and exceed all of your expectations.
As your Special Event Planner, It is my job to keep everyone and everything on track and on time.
At all times, my priority will be to make sure you remain happy and stress-free.

I look forward to planning your Special Event while incorporating your personal style and elegance.

Thank You for visiting my Website!
Services
Elegance doesn't just happen, it's planned.
Planning a wedding or any Special Event Can be fun and exciting, but with all the details that require attention, it can easily become very stressful.
There is a lot of time, effort and coordination that goes into planning Special Events.

It is easy to understand how someone could become frustrated and begin to feel overwhelmed by it all. Memorable weddings and special events are pulled together through research, advance planning and task management.





Phone Evaluation

This is a brief conversation in order to obtain a clear understanding of your expectations and how I will be able to assist you.




Consultation

There is a $25.00 consultation fee that will be applied towards any package you select.
The consultation may be conducted at your home, office or local coffee shop if you prefer. During the consultation, we will get to know each other, toss around a few ideas and discuss your vision of the event in detail. This will help us to determine your specific needs and allow us to select the package that would suit you best.




Meeting

After the consultation, if you would like to move forward and select me as your Professional Event Planner, we will both sign a written agreement. The contract will describe the service being provided, the deposit required and the payment schedule. Once we have that established, our wonderful journey will begin. We will discuss every aspect of your special event. We will discuss your ideas in detail and cover some important issues like, the theme, color scheme, number of guests, preferred locations and anything else you would like me to know in order for me to make your dream a reality.




HOURLY ASSISTANCE
$75.00 (2 hour minimum)
If you have everything under control and feel a 'Package' is more help than you actually need, Hourly Assistance is ideal for you. Whether you need help with locations and vendors, ideas and designs or simply need someone to assemble your programs and favors, I will be able to assist when you need it.




*****PACKAGES*****

Final decisions will be made or approved by the client.



PLATINUM
10% of Budget

Complete Wedding Planning.

This package is for the couple who desires a to have beautiful and elegant wedding, but are too busy to do the planning. With the Platinum Package, you can rest assured that all the details will be taken care of. All you will have to do is relax and enjoy your special day.


*Phone Evaluation
*Consultation
*Meeting to sign contract, discuss the budget, ideas and your overall vision of the ceremony and reception.
*Develop a complete and detailed budget
*Ensure Wedding Budget is not exceeded.
*Evaluate Ceremony and Reception Sites.
*Reserve sites.
*Interview and hire vendors.
*Reserve reception equipment if needed.
*Pull any needed permits.
*assist with invitation wording.
*Order wedding invitations.
*Meet with Florist to discuss floral decorations.
*Confirm Wedding cake and Grooms cake design.
*Order Cake.
*Meet with caterer/Banquet Manager to finalize reception details.
*Reserve Rehearsal Dinner Location.
*Address and mail wedding invitations.
*Track RSVP's
*Order Wedding Day Programs, menus and favors if using.
*Help assemble programs, menus and favors if needed.
*Assist with Seating Chart, if using.
*Prepare Place cards.
*Assist with Honeymoon plans, if needed.
*Prepare Wedding Day itinerary.
*Confirm times and services with each vendor.
*Confirm wedding day music selection with DJ/Musicians.
*Verify Vendors are aware of any rules at ceremony/reception sites.
*Purchase and wrap Wedding Party's gifts.
*Two weeks prior to the event, we will meet to finalize details.
*Give Caterer/Banquet Manager final meal count and final payment.
*Collect Ceremony & Reception items, such as favors, cake utensils, toasting glasses, Unity Candles, place cards, etc. and ensure they are at proper location.
*Send Rehearsal reminders to Wedding Party.
*Attend final dress fitting with bride.
*Attend and coordinate Rehearsal.
*Distribute Wedding Day Itinerary to Wedding Party.
*Explain to the wedding party their individual responsibilities, positioning, and timing of events.
*Distribute gifts to Wedding Party.
*****The Wedding Day
*Pick up Brides Wedding Dress and deliver to Ceremony Site, if necessary.
* Full Access to "Emergency Kit".
*Call and verify arrival times with Vendors.
*Greet and direct vendors to the proper locations.
*Oversee and assist with ceremony/reception site set up.
*Distribute final payments/gratuities to Vendors.
Act as liaison between wedding party and Vendors.
*Ensure ceremony and reception items are in place.
*Greet and welcome guests.
*Direct guests towards guest book and gift table.
*Assist Guests with special needs, questions and concerns
*Remain available to answer any questions.
*Ensure tables and place settings numbers are correct according to the diagram.
*Set up place card table, if needed
*Arrange place cards.
*Place menus and favors at each place setting, if using.
*Coordinate the start time with the clergy and musicians for the Processional/Recessional
*Organize the Processional line and spacing
*Ensure Groom and Groomsmen are in their positions
*Line up parents and grandparents to be escorted in
*Ensure Bride and Bridesmaids are in their positions
*Help Photographer gather Wedding Party for Photos.
*Ensure the Bride & Grooms belongings are taken to the Reception site.
Light any candles if needed
*Coordinate Grand Entrance with Emcee.
*Ensure time line runs smoothly
*Pack up Wedding Gifts and take to the designated location.
*Decorate Honeymoon Suite.




GOLD
$800.00

Partial Wedding planning.

This package is designed for the couple who has planned most of their wedding, but are beginning to feel overwhelmed by all the details that require attention. The Gold Package will put the final touches on your plans and tie up any loose ends to make sure that your special day is fabulous and stress-free.


*Phone Evaluation
*Consultation
*Meeting to sign contract, discuss ideas and visions you have for the ceremony and reception.
*Assist with addressing the wedding invitations, if needed.
*Help assemble Wedding Day Programs, menus and favors if needed.
*Assist with seating chart, if using.
*Prepare Wedding Day itinerary.
*Confirm times and services with each vendor.
*Confirm wedding day music selection with DJ/Musicians.
*Two weeks prior to the event, we will meet to finalize details.
*Give Caterer/Banquet Manager final meal count and final payment.
*Send Rehearsal Reminders to Wedding Party.
*Attend final dress fitting with bride.
*Attend and Coordinate Rehearsal.
*Distribute Wedding Day itinerary to Wedding Party.
*Explain to the wedding party their individual responsibilities, positioning, and timing of events.
*****The Wedding Day
*Full Access to "Emergency Kit".
*Call and verify arrival times with Vendors.
*Greet and Direct vendors to the proper locations.
*Oversee and assist with ceremony/reception site set up.
*Ensure ceremony and reception items are in place.
*Distribute final payments/gratuities to Vendors.
Act as liaison between wedding party and Vendors.
*Greet and welcome guests.
*Direct guests towards guest book and gift table.
*Assist Guests with special needs, questions and concerns
*Remain available to answer any questions.
*Ensure tables and place setting numbers are correct according to the diagram.
*Set up place card table, if needed
*Arrange place cards.
*Place menus and favors at each place setting, if using.
*Coordinate the start time with the clergy and musicians for the Processional/Recessional
*Organize the Processional line and spacing
*Ensure Groom and Groomsmen are in their positions.
*Line up parents and grandparents to be escorted in.
*Ensure Bride and Bridesmaids are in their positions
*Help Photographer gather Wedding Party for Photos.
*Ensure the Bride and Grooms belongings are taken to the Reception site.
*Light any candles if needed
*Coordinate Grand Entrance with Emcee.
*Ensure time line runs smoothly
*Decorate Honeymoon Suite, if at reception site.
*Pack up wedding gifts and take to the designated location.




SILVER
$600

Wedding Day Management.

This package is for the couple that did a wonderful job in planning their entire wedding, but understands the importance of having a professional Wedding Planner onsite to manage and maintain the flow of the day. The Silver Package will ensure your plans are in place, allowing you to have a beautiful worry-free day.




*Phone Evaluation
*Consultation
*Meeting to sign contract, and discuss details of ceremony and reception.
*Prepare Wedding Day Itinerary.
*Attend and coordinate Rehearsal.
*Distribute Wedding Day itinerary to Wedding Party.
*****The Wedding Day
*Full Access to "Emergency Kit".
*Call and verify arrival times with Vendors.
*Greet and direct vendors to the proper locations.
*Oversee and assist with ceremony/reception site set up.
*Distribute final payments/gratuities to Vendors.
Act as liaison between wedding party and Vendors.
*Ensure ceremony and reception items are in place.
*Greet and welcome guests.
*Direct guests towards guest book and gift table.
*Assist Guests with special needs, questions and concerns
*Remain available to answer any questions.
*Ensure tables and place settings numbers are correct according to the diagram.
*Set up place card table, if needed
*Arrange place cards.
*Place menus and favors at each place setting, if using.
*Coordinate the start time with the clergy and musicians for the Processional/Recessional
*Organize the Processional line and spacing
*Ensure Groom and Groomsmen are in their positions.
*Line up parents and grandparents to be escorted in.
*Ensure Bride and Bridesmaids are in their positions
*Help Photographer gather Wedding Party for Photos.
*Ensure the Bride and Grooms belongings are taken to the reception site.
*Light any candles if needed
*Coordinate Grand Entrance with Emcee.
*Ensure time line runs smoothly
*Decorate Honeymoon Suite, if at reception site.
*Pack up Wedding Gifts and take to the designated location.




PERFECT PARTY
$400.00

This package is for anyone who wants to throw the perfect party, but prefers to leave the stressful task of planning and clean-up to someone else. The Perfect Party Package will allow you to celebrate that very special occasion just by showing up and enjoying the fun.


*Phone Evaluation
*Consultation
*Meeting to discuss budget ideas, details and overall vision of event.
*Develop a complete and detailed budget
*Ensure budget is not exceeded.
*Research site locations
*Meet with caterer and finalize menu.
*Order Cake and or desserts.
*Order invitations
*Interview and hire Musician/DJ
*Rent party equipment if needed.
*Address and mail invitations.
*Track RSVP's.
*Arrange/hire entertainment.
*Arrange decorations/hire decorator.
*Order programs, menus and party favors if using.
*Assemble programs, menus and party favors if using.
*Give final count to Caterer/Banquet Manager
*Arrange/hire post-party clean crew, if needed.
*****Day of Party
*Pick up and deliver cake/dessert to Event site, if necessary.
*Greet and direct vendors to the proper locations.
*Oversee and assist with site set-up
*Set up place card table, if needed
*Arrange place cards, if using.
*Distribute final payments/gratuities to Vendors.
*Act as liaison between host/hostess and Vendors.
*Greet and welcome guests
*Direct guests towards guest book, gift table and restrooms.
*Assist Guests with special needs, questions & concerns
*Ensure the event runs smoothly.
*Ensure site has been cleaned up.
*Ensure that rental items are returned.



A party is never too small or too great to celebrate!

Pre-Wedding parties
C0-ed Showers
Adult and Children Birthday parties
Baby's 1st Birthday
Sweet 16
21st birthday
Fabulous at 40
"Over the Hill"
Baby Shower
Graduation
Going Away
Anniversary
Retirement
Surprise Parties
Backyard Bar-B-Que
Get-togethers
Holidays
Theme inspired