Whitney Roggenburk
wedding planner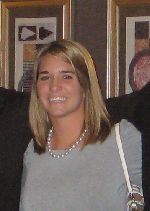 Cleveland, OH
216-571--0794
weddingsbywhit@gmail.com
Your style, Your design, Your Wedding!
My name is Whitney Roggenburk, the one who makes your wedding day come to life and be more than what you have dreamt of all your life. I will provide service that is unbeatable, and will always be there to help.

I can work with you for a full service wedding package, or provide service just on the wedding day to make sure everything goes exacty as planned. We will work together and decide exactly where you want me to fit in.

Whether your dream is an extravagent wedding in a Church, a charming garden setting, a classic night in a ballroom, or the magical appeal of a beautiful vineyard celebration, Whit will help you find a beautiful l
Whit has a true passion for seeing two people find love with each other and tie the knot. She wants to help you plan your wedding and make it the most memoriable day of your life! Whit will keep you on budget while still planning the wedding of your dreams. We help keep you stress free and simply enjoy this amazing time in your life. We make sure you are going to vendors that fit your style and budget needs so you don't waste any time in the process.

Whit has plenty of experience planning but it's the weddings that she enjoys the most! It's her true passion. The satisfaction of seeing a bride and groom join each other in a completely blissful day makes everything perfect for her.

Whit graduated from Florida State University with a psychology degree and then moved on to becoming an International Wedding Planning Professional and a member of the Association of Bridal Consultants. She would absolutely love to join you in your planning!
Services
- Full Wedding Planning and Designing

- Location Consultation

- Budget and Itinerary Creation

- Guest List Assistance

- Theme and Decor Designing

- Vendor Selection

- DVD Slideshow (Rehearsal dinner / Post Wedding)

- Day of Coordination

- Week of Planning

- Honeymoon Selection / Planning

- And much more...

Beautiful Hand Crafted Calligraphy is available for Invitations, Placecards, and any other needs that you are looking for at your Wedding.

Outer Invite Envelope Address: $ 2.00 per envelope
Inside Invite Envelope: $ 1.00 per envelope
Place Cards $1.00 per card

Please call 216.571.0794

All services are available and you are not limited to any. We are here to assist you in your planning and want to be here when you need us. Customize your services to best fit your style and budget.