Krista McIntyre
event planner , wedding planner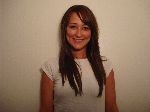 Ottawa, ON
613-552-4045
krista.mcintyre@gmail.com
Bringing Perfection To Any Event
Combining customer service with competitive pricing to guarantee that each event is unique and sophisticated,whether its a corporate meeting for 20 or a black tie gala for 200.Using my fresh young take on style and design I am able to create an unforgettable event.With great attention to detail I handle everything in the planning process to ensure that my clients will be relaxed and stress-free during the planning process and the day of.
For 7 years I have planned,organized and executed many events,including private parties,charity events,all ranging in size and budgets. I have attended seminars and workshops in time management,floral,pastry design,as well as assisted in many weddings and corporate events.I have many years of customer service experience and enjoy meeting and working with others. I'm dedicated and passionate about my events and I intend to further my knowledge through experience and education.
Services
I work closely with my clients to ensure perfection on their day. I provide you with efficient, creative choices so i can tailor a personalized package designed to suit your personality and budget.
I handle all aspects of the planning process which , for example, include;
-researching an appropriate officiant
-finding the perfect venue
-Putting together a design and color scheme
-Integrating your personal wants with tradition
-Arranging a budget to meet your needs

I make sure to go above and beyond for each and every client I work with.