Ashley Kahler
event planner , wedding planner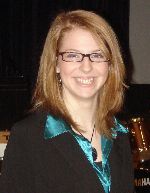 Schenectady, NY
518-937-3473
ashleykahler@wedsandmorebyash.com
We're here to make the planning of your special day as stress-free as possible!
Welcome! I'm Ashley, owner of Weds and More by Ash, a Wedding and Events Coordination and Consulting company. I want to make sure that the ideas that you have for your wedding, HAPPEN!
Background

It has been my dream, since junior high school, to become a wedding planner. I spent many research papers dealing with the topic of weddings and the like during my school years. All of this has brought me to where I am today.

Education and Experience

I started my collegiate studies at Schenectady County Community College in Schenectady, New York where I studied Tourism and Hospitality Management. After one year of classes that taught me in the subject of meeting and convention planning and management I decided to transfer to Roberts Wesleyan College in Rochester, New York. There I earned a Bachelors of Science in Business Management, where I was able to focus my studies on starting my business and learning project and event management. I had the opportunity to Intern with Out of the Ordinary Special Events in Rochester where I gained hands-on experience planning and executing events. I was also able to be the project and event manager for the sign-language choir on campus. I have completed the QC Wedding and Event planning course and am continuing my studies working to become certified with the Sheffield School.

In addition to my schooling I have previously worked a David's Bridal where I gained much experience on wedding attire.
Services
For a complete list of services please visit the Weds and More by Ash official webpage at www.wedsandmorebyash.com