Sylvia Barnaby
event planner , wedding planner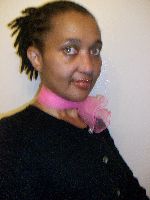 Fort Lauderdale, FL
754-246-0299
sbarnaby.barnaby@gmail.com
UNITIE EVENT AND WEDDING PLANNER
My name is Sylvia Barnaby, I am a Professional Event and Wedding Planner. I received my training through QC Event and Wedding Planner. The name of my business is Unitie Event and Wedding Planner. I am specialized in beach wedding, tented wedding, destination wedding, indoors weddings and parks wedding.

I will be with you from the beginning until the end. I am here to guide you and make sure that your dream wedding comes through. I will be helping you to find the location and how to accommodate you and your groom the family and your guests. How to choose the right location for your wedding day and how to choose the musicians and enteritis
My background is I am a Professional Event and Wedding Planner. I am new in the business. I am certified as a Professional Wedding Event Planner from QC Wedding Planner. After I finish school I will be having my own business and the name of it will be Unitie Event and Wedding Planner.

I will be specialized in all areas of the business. My main goal is to cater to my brides needs and make sure that she is satisfied on her big day.

My concerns will be what my brides concerns are. I will guide her and help her to make her wedding day be glamorous. I will always having one on one consultation with my brides and when we are finish I will make sure that she will be leaving with confident that I can do the job to her satisfaction.
Services
The services that I will be providing for my client will be professional. I will be working with professional vendors and making sure that they carry out their work in a professional way. Make sure that timing is of utmost important. Time is my motto. If you cannot be on time you cannot work with me. My price will be reasonable for my clients. Price will be discussing at the time of the meeting with my clients.

Also I will be carrying my client to the vendors and let them see the vendors whom I am working with. Also they can also choose what they would like at their events. I will make sure that what my client like I will get it for them.