Cherry Creek Events
Kaloni C. Jensen
event decorator, event planner, wedding planner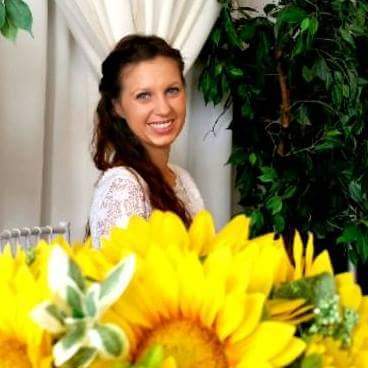 Emmett, ID
208-369-0640
cherrycreekevents@gmail.com
Inspire Lasting Moments
Kaloni Jensen is an International Event and Wedding Professional who owns and operates Cherry Creek Events in Emmett,Idaho (near Boise). I specialize Planning, Decoration, Dance Instruction, and Family Life Education. My personal approach is to plan events that reflect the theme and individualism of the event subject.
I'm a small town farm girl who fell in love with events!

I am a 2 time graduate of Brigham Young University-Idaho with my Associates in General Studies (2013) where I studied floral arranging, culinary arts, sewing, architecture, decoration, and event management. I was involved with BYU-Idaho's Student Social Activities program during my freshman and sophomore years where I served as both a team member and co-event manager. As a junior in college, I was the manager for the Valentine's Masquerade Ball, Valentines 2014, as well as co-manager for Weekly Country Dancing Winter Semester 2014. I was also involved with the planning and carrying out (a committee head and team leader of group 6) of the Spring Floral and Bridal show in March of 2014 on campus. Spring Semester 2014 (still as a junior in college) I was Director of Student Social Activities.
I graduated in July of 2015 from BYU-Idaho with a BA in Marriage and Family Relations.

After getting my Associates Degree from BYU-Idaho in April of 2013, I took the rest of the year off from university and in September enrolled in vocational school where I attended QC Event School for my IEWP in 2013. Many doors of opportunity were opened to me at this time and in October 2013, I attended my first professional business luncheon. I graduated as an official International Event and Wedding Professional from QC in December 2013.

In 2013 I became a committee member for the non-profit organization Idaho Renaissance Faire. I was nominated to the Idaho Renaissance Faire Board of Directors in late August of 2014 where I served on the Planning Team.

In 2015 I joined the International Non-Profit Organization, Big Ocean Women for Faith, Family, and Motherhood. I served on the Board of Directors for a term and am currently on the Executive Committee. I serve as a professional event planner for the volunteer based organization. I've planned events for Big Ocean at World Congress of Families IX (USA), World Congress of Families X (Tibisi, Republic of Georgia), and at the United Nation Headquarters in New York City for the 2016 Commission on the Status of Women Conference 60 (UN CSW60).

Events capture memories and that is why I choose to inspire moments made to last. I believe that with hard work and determination, I can accomplish anything.
Services
My services include: Wedding Planning, Event Planning, Wedding Decoration, Event Decoration, Decoration Rentals, Dance Instruction, and Family Life Education.