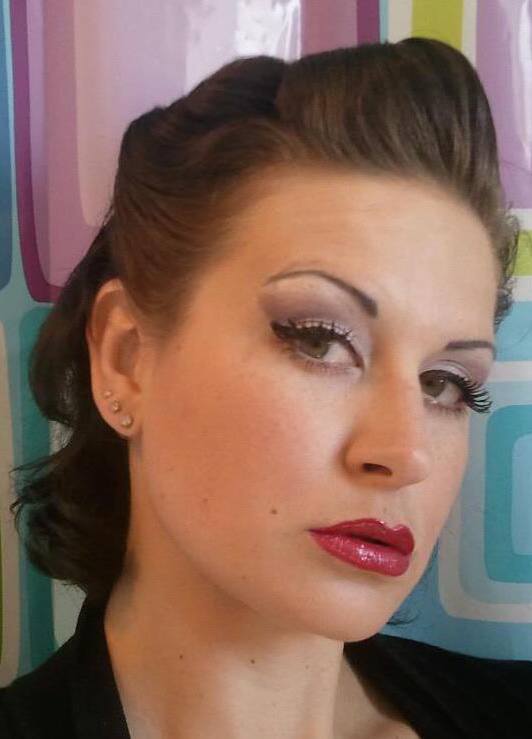 Fort Collins, CO
970-690-5997
vintageglamourmua@gmail.com
Timeless beauty is within everyone, and it deserves to be showcased!
I believe everyone has a timeless beauty, and it deserves to be showcased for the world to admire. Beauty is more than an adjective, it's an attitude, a way of loving life in a unique and intimate way. My passion is to help others see it within themselves, and experience the transformation of confidence they begin to exude. As a mother, I am naturally drawn to wanting to bring out the best in a person, and creating a nurturing environment for growth and love. When a person feels good about the way the appear to the world, it can drastically change the way they interact with it. Confidence allows a person to create the life they dream of because it allows them to feel worthy of it. I love being a part of that journey!

I specialize in vintage style looks, including hair styling and wardrobe assistance. It is my belief that the 1950s era was one that celebrated feminine beauty as well as strength, and it can be seen through some of the most loved and celebrated women in history. Their beauty was captured and showcased in such a way that decades later we still refer to them as some of the most beautiful and unforgettable women to have ever lived. The looks can range from an everyday style to the most glamorous of occasions, and all while incorporating an individual flair and unique quality. This is more than just winged eyeliner and red lips...it's a persona that lives within every woman. A persona that I take great pride in bringing out for the world to see.
Makeup and hairstyling have always been a great interest of mine. After high school, I attended college for general studies because I feared going for my dreams at first. As a nineteen year old single mother, I felt that I didn't deserve to follow my passion, and so spent several years going from college classes off and on, to full time jobs that weren't fulfilling except for financially. I met and married my wonderfully supportive husband at twenty three years old, and we started a family, which meant I would be a full time mommy for the next six years. While I truly loved it, I eventually entered the workforce again, and again found it to not fully satisfy my calling in life.

I stumbled upon QC Makeup Academy one day, and fell in love with it! My husband and I worked hard to create a financial plan that would allow me to enroll. Now I attend QC in the Master Makeup Artistry course, as well as work thirty hours a week! The journey is incredible, and most important is that I am living out my passion to create a world of beauty for those around me.

Some of my best moments are when I create a look on a client who at first is unsure of herself, but by the end is glowing with excitement!
Services
I provide clients with personalized vintage and signature looks. By combining specialized makeup techniques, with hairstyle and wardrobe assistance, clients are transformed into a modern day classic beauty icon! In addition to makeovers, I am available to teach clients not only how to choose the right cosmetics, but also how to apply them at home. From young girls just getting started in the world of beauty, to a mother going back to work, I can create an appropriate signature look that will stand the test of time.

I offer the following services:

Vintage Glamour Makeover - Customized pin-up style makeup, hairstyle, suggestions for coordinating outfit for the appointment, one head shot photograph to be emailed for your personal use

Glamour 101 - Personalized instruction for purchasing cosmetics (skin type needs, color palette preferences, how to match color), basic skin care, and cosmetic application techniques

Timeless Beauty - Customized everyday look to suit your individual needs (based on age, school/work environments, activities, etc)

Glamour 911 - Specific instruction on how to perfect a technique of your choice (for example: winged eyeliner, lip lining, blemish concealing, flawless foundation application, false eyelashes, etc)

In addition to the services above, I'm also available for group sessions and weddings! Contact me with any questions, would love to hear from you!