Dharmista Patel
event planner , wedding planner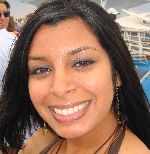 Raleigh, NC
252-452-0738
Dharmista.Patel@hotmail.com
Mystic Events- Where we make your dreams into reality!
I am an educated creative woman who has a drive for success. I am a hard working individual who is dedicated on making my clients happy and satisfied beyond belief. I also consider myself to be organized to the fullest and always thinking outside the box.
I graduated from the University of North Carolina at Pembroke with a Bachelor of Art in Art degree. I grew up loving art and consider myself to be creative. I love to paint and decorate, may it be a house or a hall. I was the one person everyone in my town would come to for decoration and planning for special events such as weddings, birthday parties, and holiday parties. I then realized that this is what I want to do. I enjoy expressing my creative ideas and touching peoples hearts, making their dreams come alive.
Services
At Mystic Events our mission is to offer consulting and design services that allow our clients to have the wedding/special occasion they envisioned by establishing a personal relationship with you. We are here to make your event as easy, enjoyable, and a magnificent success.

Events

*Engagement Parties
*Holiday Parties
*Charity Events
*Theme Parties
*Dinner Parties
*Baby Showers
*Bridal Showers
*Birthday Parties
*Graduation Parties
*Weddings


Our Services Include:

-Directing and Coordinating
-Budgeting
-Help select the wedding theme and color
-Create a wedding day schedule of events
-Help select a site and vendors (florist, photographer, DJ/entertainment, ect.)
-Selecting invitations and wedding programs
-Transportation
-Accommodations for out of town guests
-Overall Design

and more...

Weddings Services:

-Full Wedding Coordinator
-Partial Wedding Coordinator
-Day of Wedding Coordinator