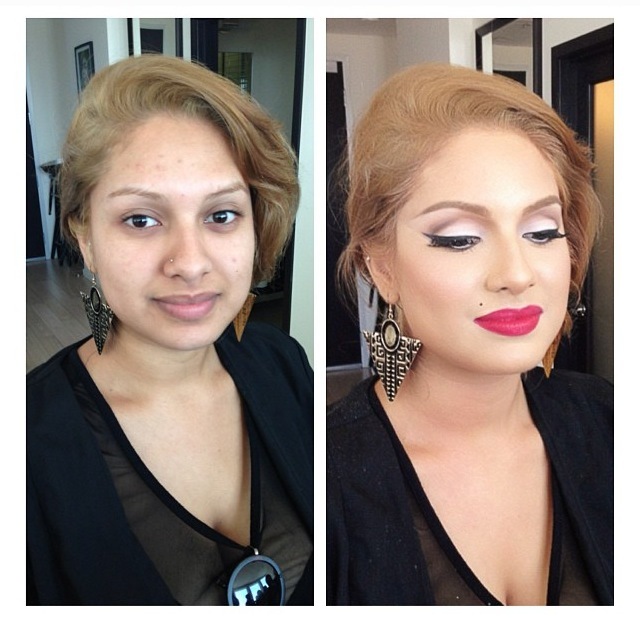 Harrow, ON
226-344-4406
melissaa.x@live.ca
Peace Love and Lipgloss
Freelance makeup artist trained by QC Makeup Academy's Master Makeup Artist program and tutored by celebrity makeup artist Nathan Johnson. I have had the honor of studying all fields of makeup, from elegant bridal to corrective beauty applications. Because of this quality training and my well-stocked up-to-date kit, I am confident in my ability to create the look you desire. I believe that beauty is absolutely everywhere, and I love to help people see the beauty within themselves. Whether its doing a complete glam look, or teaching you how to tame that unruly brow, let me help you bring out the best of yourself.
Services
Specializing in bridal, vintage-inspired beauty and makeup for photography. Also available for beauty consultations, editorial/high fashion, and personal lessons.

Services:
Special Occasion Makeup
Full-face makeup application tailored to your special occasion and guaranteed to last.

Eyes Only
For the ladies who only want a little bit of help.

Personal Lesson Packages
Customized lesson to your request.
I will design a lesson just for you, focusing on your request. Whether you want to learn all about makeup brushes & tools or perfect contouring, a one-on-one lesson is a great investment in your confidence.

Teen Makeup
-1.5hour lesson in your home
-Tailored to teens, I'll cover skincare, blemish control & coverage
-Subtle yet beautiful makeup application
-Day & Night looks created specifically for your teen with full face chart & product recommendations as reference
-Complimentary lipgloss to keep

Application with Tutorial
-1.5hours
-Day or Evening application with step-by-step instructions
-Includes 1 set of fake eyelashes
-Face chart of complete look

Eye Candy
-1hour
-We'll cover eyebrow grooming, the classic cat-eye, smoky eye and fake eyelash application
-Face chart with detailed notes

15min Face
-45mins
-I will show you how to look bright & refreshed with minimal products in record time, perfect for busy Moms on-the-go.
-Face Chart

BRIDAL SERVICES
Bridal Consultation: $50
Lasting roughly an hour, you'll share your vision for your special day and together we'll design your look. Includes a makeup application
.
Day-of Bridal Application: $40 or $45 with lashes
Bridal Party Makeup: $30/face
Flower Girls Glitter & Gloss: FREE (12 &Under)
Fake Lashes: $10/pair

BUNDLE & SAVE
Simple & Sweet $150
Includes: Consultation, Bride's Application and 2 Bridal Party Applications with lashes (Save $25)

Blushing Bride $175
Includes: Consultation, Bride's Application, 3 Bridal Party Applications with lashes (Save $40)

My Big Fat Wedding $200
Includes: Consultation, Bride's Application, 4 Bridal Party Applications and 4 pairs of fake lashes (Save $55)
Testimonials
"You did an amazing job on Saturday, Joseph told me I was stunning the second he saw me and he noticed the lashes immediately. I had compliments all day! Thanks again, you are amazing and my new go-to girl."
Susan
"Thank you, thank you, THANK YOU for the great job you did! Everybody loved their makeup and felt comfortable in it all day, and it didn't budge! I can't wait to see my photos and call on you again to doll me up for our first anniversary together!"
Meaghan
"You are honestly SO talented! After doing 3 shoots with you I know its not just beginners luck and I've started mentioning you to other models as a MUA. Keep doing your thing and you'll chase your dreams. xoxo"
Vicky