Karan Barton
color consultant , home stager , interior decorator , interior redesigner , landscape designer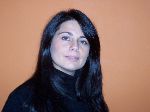 Oxford County, ON
519-468-3628
insideout@nor-del.com
"Fine Interior Design should be limited only by the physical requirments of the space - not by the imagination of the designer."
Inside Out Design is a full-service Interior Design Company located in Oxford County. Inside Out Design owner, Karan Barton is a certified; Interior Designer, International Staging Professional (ISP TM) and Re-Design Specialist. If you are looking for friendly quality service, call Inside Out Design at 1-519-468-3628 or email us at insideout@nor-del.com
Inside Out Design will provide top-quality Interior Design, Home Staging and Re-design services as well as general renovations. The company will seek to provide these services in a most timely manner and with a focus on customer satisfaction and overall quality of work.

It is our company's mandate to create a beautiful functional space which can be enjoyed by all while enhancing the home's appeal and overall market value.

Inside Out Design specializes in:

Interior Design:

Interior Design is creating a space which is functional, inviting and that reflects the needs and tastes of the owners and their family. It is, in essence, personalizing a space for the way individuals live and work!
When decorating, the designer usually starts with a blank slate. She will meet with the home owners to get a feel for what they are looking for. The uses of the room are also considered, as well as the home owner's likes and dislikes. Any furniture currently in the room is reviewed and the home owners indicate what pieces they would like included in the new design. At the end of the visit the designer will measure the space.

The Interior Designer will then take all information gathered and complete an estimate and a computer generated floor plan with 2-5 unique, professional design plans. At this point there will be a secondary meeting set-up with the client(s) to review the different sample packages. The home owners then decide which plan they prefer and the on-site decorating process begins!

An Interior Designer will look at the following elements within your home:

* Planning for People
* Functioning Floor-plan
* Window, Wall, and Flooring Treatments
* Lighting
* Fabrics
* Accessories
* Period Furniture
* Presentation Techniques
* Focal Points
* Color
* Furniture Scale and Visual Weight
* Lighting Accessorizing
* Window Treatments
* Room Styles

Home Staging:

Home staging is completed for re-sale purposes. Placing one's home on the market can be a very exciting, yet unsettling time. When first impressions are so important, deciding where to start can be very difficult and even overwhelming. Home Staging helps the home owner get the maximum return for what is most likely their largest investment. Inside Out Design offers friendly, quality service to help ease the stress which often accompanies preparing a home to be placed on the re-sale market. All it takes is a professional design plan, some creativity and the strong desire to show off your home in order to sell it quickly and for the highest profit possible.
Staging is not decorating; it is de-personalizing your home so that it appeals to the broadest market. Staging is about getting a property SOLD. Decorating is optional, Staging is mandatory. If you're preparing your home for sale, you should realize that once it's on the market, it's no longer your home, but a product. Selling your home is about first impressions and creating a space that appeals to the largest market. Remember, it's about selling that dream! It is imperative to have an objective opinion on your home's appearance from a qualified expert. We are working toward the same goal - the best price (most money) possible for you.

Interior Re-design

Interior Re-design is creating a space by using a client's existing belongings. When your home is re-designed, it is dramatically transformed by using most of what's already in your home. Interior Re-design creates the best design space possible using the homeowner's best furniture and accessories to create a functional and harmonious environment. Re-design will breathe new life into your home. For those who feel that Interior Design is too costly or who may not want to part with their current belongings, a Re-design make-over is for you.

An Interior Re-designer will look at the following:
* Focal Points
* Color
* Furniture Scale and Visual Weight
* Lighting
* Accessorizing
* Window Treatments
* Room Styles

We look forward to hearing from you.

519-468-3628
insideout@nor-del.com
Services
Inside Out Design specializes in:

Interior Design
Home Staging
Interior Re-design
Garden Design
Co-ordination or completion of General Renovations

We create custom interiors to enhance the decor/design of your home or business for your everyday enjoyment or for increased revenue for the sale of your home.
Testimonials
Karan, Thanks for doing such a perfect job, we all love the space you created. You make the ordinary extraordinary!
Kristal, Bob and Alli
Karan, Kevin and I wanted to thank you for the wonderful transformation of our home. We cannot believe the difference. We have your card, expect a call when we are ready for phase 2.
Peggy and Kevin McKinnon