Through Our Eyes Creative Interiors
Judi Lancaster
color consultant, home stager, interior decorator, interior redesigner, professional organizer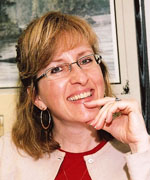 Mahone Bay and Surrounding Areas, NS
613-541-0513
judi@throughoureyes.ca
Together, we will make your vision a reality.
Through Our Eyes Creative Interiors uses traditional and untraditional decorating methods to transform your home or business into a comfortable up-to-date environment. Whether enhancing your space using existing furniture and accessories, preparing your home for resale or creating a brand new look reflecting your tastes and style, Through Our Eyes Creative Interiors provides a variety of services to meet any budget.
Through Our Eyes Creative Interiors offers exceptional service providing knowledge, expertise and over 20 years of experience in the decorating field. Owner Judi Lancaster is an Interior Decorator who specializes in Interior Redesign, Real Estate Staging, Color Consulting and Professional Organizing for your home or business. Her experience, creative abilities and use of visual aids, provides a unique and exciting twist to the concept of decorating your home.

Judi is proud to have graduated from the Sheffield School of Interior Design where she received an award of Merit. In addition she has obtained her ISRP (International Staging/Redesign Professional), PCC (Professional Color Consultant), and IOP (International Organizing Professional).
Services
Interior Decorating and Redesign
Whether using traditional principles and elements of design to totally transform your space or to redesign your environment using your existing furniture and accessories providing a more stylish look, Judi will provide a variety of levels of service to assist all homeowners in creating a beautiful up-to-date and stylish home. Through the creative use of space planning, furniture placement, lighting, color, fabric, flooring, wall and window coverings, organizational planning, accessorizing and exterior space planning, informed choices will be made alleviating unnecessary stress and potentially avoiding costly mistakes. Special care will be given to understanding and respecting each clients individual needs, likes, and dislikes.

Staging
Staging is the process of educating the homeowner in the importance of preparing their home for resale maximizing its appeal to a larger buying market. Staging applies to any property regardless of size, value or location. Through the process of depersonalizing and neutralizing, the homeowner is provided with an evaluation of their property through "the buyer's eyes", which allows buyers to emotionally place themselves in the home. By featuring the home's qualities and minimizing the homeowner's personal choices, the staging process recreates your space using your existing furniture and accessories creating a more appealing property to potential buyers.

Professional Organizing
Through Our Eyes Creative Interiors provides the necessary assistance in creating long term organizational solutions increasing the efficiency throughout your home or office. Whether re-organizing your existing home or office, moving to a new space, downsizing or creating a more efficient work environment, Judi will assist in decluttering and organizing your space therefore simplifying your life and providing a more functional and relaxing environment.

Additional Services

Color Consultations
Transition Services
Shopping Assistance
Organization and Space Planning
Picture Framing
Boat/Recreational Vehicle Interiors
Seminars/Guest Speaking
Furniture Refinishing
Testimonials
In November 2007, we were relocated from Kingston to Peterborough for work reasons. As part of the relocation plan, we had three months to sell our house, It was in our best interest to sell the house quickly to ensure the highest financial return, but we were faced with selling during the Christmas season, typically the slowest time of year for Real Estate sales. Judi was hire to make our house appealing to the largest number of potential purchasers while investing the least money possible. She was able to make recommendations that were both simple and inexpensive that resulted in a very positive impression once completed. We invested approximately $2000 in improvements and easily gained that investment back on the sale price. The best part was that we sold the house in 13 days for very near the list price after 2 viewings. Its hard to express the peace of mind a quick sale brought to the turmoil of moving a family. We would heartily recommend the use of Judi's services to supplement any home sale strategy.
Susan & Paul MacGregor
Judi, it is with great pleasure that I tell you that our home sold within two days of listing. Your professional and most pleasant approach in assisting us to state the house contributed to the quick and easy sale. The prospective buyers who toured the home provided very positive feedback regarding how the house was presented. Our time spent with you prior to listing was very beneficial, especially as this was our first time staging a home in preparation for sale. We followed your many accurate ideas and suggestions in getting the house ready. The buyers realtor commented that this was the nicest house he has shown and that we should be congratulated on our presentation efforts. Of course the accolades should be shared with you.
Robert Johnson