Karin Dery
home stager , interior redesigner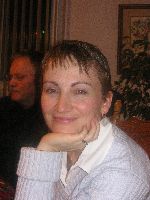 Sherwood Park, AB
780-238-6440
karindery@clutter-matters.com
Cost effective solutions for your home.
Need to sell your house? You've contacted the right person! Having sold several personal homes in the last decade in less than a week's time, for top market value, I know what it takes to impress buyers the minute they walk in. It's all about attention to detail and believe me, perfection and meticulousness is what gets the WOW factor that will sell your home fast! You may not even have the time to put that For Sale sign up. Trust me, it happens after I stage a home!
A former elementary school teacher, dayhome provider and mother of three boys, I have always functioned better when my surroundings were neat, beautiful and functional. My passion for making a home feel like a place of retreat whether it's to live in or to showcase as a future home for a family, is what drives me to keep educating myself on the latest trends of the interior redesign world. Combine all that with a keen interest in real estate, a desire to make people happy, and loving a challenge, I will get your house sold faster than one that is not staged!
Services
Organizing:

Residential or cooperate- 40-50$ per hour
Includes: filing systems, creating functional and sustainable systems for any room in your home or office.

Home Staging:
Consultation is free!
Walk through consultation: 150$
Includes: a 45 page detailed checklist of things you can do you yourself to unclutter, depersonalize and stage your home.

We also have different packages for home staging ranging from basic home staging to premium packages where we rent furniture etc. Prices vary depending on the initial complimentary consultation.

Home redesign: Let's use as much of your furniture and decor as possible but change things around to make your day to day living more functional and beautiful all at the same time! Redesigning is the art of reinventing what you already have! Prices: 40-50$ per hour.
Testimonials
"Its a true relief to have my "paper clutter" not cluttering my space anymore. Thank you. I will continue to use your help, just so I don't fall back into bad habits."
Lindsay
Karin took my place from a clutter muck to a never have had a cleaner bedroom/office. Karin did en excellent job in the time allotted. Definitely worth the money and time!"
Rainer
"Thank you so much for helping me get my office organized. Now I have a functional space and I can find anything in seconds!"
Renée