Karen Murray
color consultant , interior decorator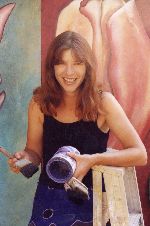 Kitchener, ON
519-749-8791
modernwalls@sympatico.ca
Colour Consultant
Interior Decorator
Specialty Wall Finishes
On-line Consulting

Karen Murray has been working as a decorating and paint professional for over a decade. Karen Murray wall solutions is a full service interior decorating and colour consulting studio providing an excellent creative approach to enhance the function and beauty of living and work spaces alike.
Her beginnings in art, particularly mixed media, have given her a keen eye for colour and detail. She combines a practical approach with an appreciation for the visually beautiful. Many years of experience has taught her to put herself in her clients' place easily and while she is excited about giving her advice, she encourages her clients to participate in the process.
Services
COLOUR CONSULTATION

There are thousands of colours to choose from! Our colour choices set the tone and character of your décor. We KNOW colours and how to put them together to enhance the charm of your home.

NEW HOME
CONSULTATION

All those decisions to make! How to make lasting choices you can live with? Relax. We can help. We will meet you on-site and put your mind at ease.


SPECIALTY FINISHES

Transform the interior of your home with fabulous wall finishes! Walls are the blank canvases of our homes, an open invitation for embellishment! Top quality latex paints and our artistic finishes ensure individuality of design.


MODERN WALL SOLUTIONS

Add that final touch to your rooms. Customize your home by adding unique and custom designed features to your walls. ie: wall panels or custom fireplace surrounds
Testimonials
Karen ~ Joe and I want to thank you for the incredible job you did on our home. We just love the feeling when we walk in the front door. It's almost as if we're passing through an old passageway when walking through the hallway into our living room and kitchen. We just love the touches of the brick that you placed next to the niches, it adds so much character to that space. The kitchen and dining area is spectacular! We just love the added cracks by the light switch in the kitchen. We couldn't be happier with the results! I look forward to working with you in the future. Thanks again.
Dianne Galletta
Hi Karen! I have been meaning to get in touch with you for a while. Thank you so much for all your wonderful suggestions! The place looks fantastic! If you are in the neighborhood, do come by and have a look! We finished the project late Fall: wood floors in the kitchen, hall and living room (a colour called gunstock / reddish-brown, installed buy Zarmanians); also the colours you suggested in the kitchen (roxbury caramel) and the bedrooms. The countertops in the kitchen were redone also, along with black handles on the cupboards. I had a great time shopping for the items you suggested (ei., antique white frames and mirror in the bedroom). Thanks again Karen! I enjoy my new ''abode'' each and every day!
Catherine
I have had Karen do my entire home - over time! She has also 'created' our travel offices (Goliger Travel Plus - Plug!) I'm not sure how I can give her a bigger compliment. Not only does she help you pick the perfect colour and paint technique, but she also creates a certan theme and ambiance. Her creative solutions are incredible and apprecitated. It doesn't matter if it is our home or office, there isn't one person who does not comment. She makes ME look really GOOD!
Linda Van Der Heyden, Goligers TravelPlus