Sue Kaukas
home stager , interior redesigner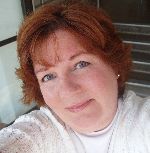 Ashland, VA
804-798-5445
sue@kaukasdesign.com
Under the name "Staging Solutions", I offer homeowners, realtors and builders a range of services to help them sell their homes more quickly and for more money.
Whether it be just a simple consultation and recommendation, or a fully-staged redesign. I believe my 30 years in graphic design allows me to "hit the ground running" in the staging business with experience in balance, scale, texture and an eye for what people find visually appealing.
Services
Consultation and Written Recommendations
De-cluttering
Redesign with existing items
Redesign with some editing and new accent pieces
Staging a newly-constructed or vacant home
De-cluttering and Staging a furnished home
Curb appeal recommendations
Implementation of landscaping upgrades

I offer these services at a reasonable rate, as I'm just starting out in this business and have not yet built a large portfolio. I am also willing to work within tight budgets and with tight deadlines.
Testimonials
"Sue's staging work is some of the best I've seen. Her eye for clean lines and simplicity coupled with her outstanding design talent enable the features of the home to stand out. What is wonderful about Sue's work is she incorporates as many of the clients own items as possible sprinkled with some of her own so the staging looks natural. She has a wonderful way of making the home look inviting and move-in ready." Judy Moore Long and Foster Realty, Richmond
Sue has a unique eye for space. She sees shapes, colors, possibilities in an empty room that instantly transform it into a comfortable, chic, livable place to be. Her eye for color and texture is particularly appealing and she has an uncanny sense of what belongs where. I have enjoyed having Sue in my house many times…it always looks better when she leaves that it did when she got there and all she did was move a few things around! Frazier Millner, West Point
I invited Sue into my home with hope she could help me move some furniture around. This may sound a bit dramatic, but what happened was an interior design revelation! She transformed my home from something I considered "eclectic" to a well designed room of elegance. I didn't realize the items I already had could be creatively arranged and give my home a whole look that reflects my style. Lisa Smith, Philadelphia