Angelica Ruckert
home stager , interior redesigner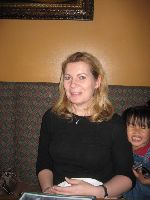 Catonsville, MD
410-869-3440
angelica.ruckert@gmail.com
Partz Home Staging & Re Design.
We stage with style and with your budget in mind.
Let Partz Home Staging & Re Design manage the details from start to finish, and prepare your property for showing and selling in the marketplace.
I was born in Sweden and lived in Stockholm for the first part of my life. My mother is an artis and has her own art gallery in Stockholm, I think I got my artistic ability from her. I loved to paint from when I was very young and used to come along with her to her art lessons and try to copy everything she was learning, I was always asking her instructors to look over my work and make suggestions on what area I should improve on.
Services
Home Staging and Interior Design.