Louise-Ann Baerwald
color consultant , interior redesigner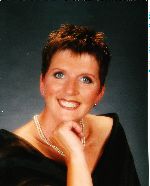 Oxbow, SK
306-483-7775
luezan@sasktel.net
"Work with what you have; for the look you've always wanted"
Hi, my name is Louise-Ann Baerwald. Lou for short. I am an interior redesigner and colour consultantant. Over the course of my adult life, I have lived in many styles, ages and sizes of houses. My first home was a 12' x 36' skid house. As a homeowner, I wanted the décor of my surroundings to reflect my individuality without having to spend a lot of money. Living on limited budgets through out my life, I have learned and perfected the necessary skills to do decorating projects myself. I believe this talent will serve me well in offering my knowledge to clients in the best and most cost effective way to redesign their interiors.
I have diplomas in Professional Redesign and Professional Colour Consultant from the QC Design School based in Ottawa, Ontario. Few can afford to hire someone to redecorate their entire home, thus redesign is the solution. Interior redesign uses existing furnishings and accessories thus making it an affordable choice for everyone. A change of wall colour can dramatically transform the look and feel of a room.

Working with the public for over 30 years has provided me with effective listening skills. Homeowners have an idea of what they like in décor, but many are unable to project those visions into their spaces. With my personal decorating experiences in conjunction with my course knowledge, I am confident I can change your room or rooms to reflect the real you.
Services
The services I offer are geared to you the homeowner in your quest to revamp the rooms of your home. Using your existing furnishings, artwork, and accessories, I will provide you with low cost suggestions and changes to give your rooms the facelift you desire. Armed with your answers to a few simple questions, measurements, digital pictures and a sketch of the space, I will be able to provide you with ideas for colours, furniture layouts and accessory placement to transform your spaces into a style that reflects your individuality.