Krista Whittington
interior decorator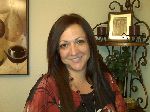 Rancho Cucamonga, CA
949-697-3146
kristawhittington@msn.com
Your home is your personal sanctuary. An escape from the outside world. Let me help you create the environment you can escape to.
Most people live hustle and bustle lives over forty hours a week. At the end of that day, or week, every one wants to unwind. How they unwind differs. One place WHERE they unwind, doesn't. Everyone wants to unwind at home. Whether that home is a contemporary urban loft, or a cabin isolated from your neighbors: it is your space. YOUR space to express your individuality, your interests, and your passions. I would like to be someone that helps you express those unique characteristics that help define the space as yours.
As a child, my dad took me to model homes for fun. I daydreamed about creating beautiful living spaces like that, someday. I have been helping create those types of environments now, for ten years. I have an extensive background in the interior design industry. I have worked with some of the most highly demanded designers on the east and west coasts. Some of the homes, that I have participated in designing,are for the most famous people in the country.

I have worked in design showrooms that have specialized in custom window treatments, bedding, upholstery, and specialized in the most cutting edge residential and commercial interior design. I believe that my career experience, along with my education, enables me to meet each client's specific needs in an aesthetic appealing manner.
Services
I offer full residential design services to meet each client's needs. Each consultation, with potential clients, is geared to understand the vision the client wants to create in their home. Whether the client is looking to merely select new furnishings, or an entire home makeover, I can bring the project to fruition. The completed look can be met within any budget; through custom upholstery, linens, wallpapers, casegoods, and window treatments.

For a consultation to help you create that perfect space, please call K2 Design (949)697 3146.