Roshy Sharifi
color consultant , green designer , home stager , interior decorator , interior redesigner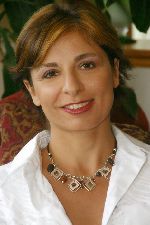 North Vancouver, BC
604-318-7705
roshy@magicspaces.ca
Magic Spaces . . . Where Beauty and Function Meet!

Hello, welcome to Magic Spaces!

My name is Roshy and I'd love to share a little about myself. I live in North Vancouver with my husband, two kids and two cats! I am a professional civil engineer, as well as a potter and painter. I have found that interior design and decorating are perfect ways to combine skills from my backgrounds in engineering, business and the arts.
I rely on my artistic sense in the selection of colour and form and my analytical skills in layout design and financial control. My communications and project management skills, polished during many years of business experience, enable me to provide superior and efficient service.

During the development of a design concept, I use digital technology to help you visualize your future space. During a consultation, I present interactive three-dimensional digital models of the design space on my laptop computer. This will help examine different colour and layout options in a time efficient way. To determine your preferences, I share a digital database of various design styles and color schemes and use questionnaires. I also provide impges and samples of my suggested materials and furnishings.

_____________________________________________

My main goals as a designer are to:
o Exceed your expectations for service and products
o Provide imaginative,innovative and cost efficient solutions
o Focus on open, clear and frequent communication
o Stay current with the latest developments and innovations in the interior design field
o Deliver projects on time and on budget
Services
"Design is the process by which imagination and memory become reality."

To help you achieve your reality, Magic Spaces offers full range interior design, renovation, and decorating services. These services include:

• On-site consultations
• Home staging
• Colour consultations
• Material selection (flooring, textiles, window coverings, etc.)
• Floor planning
• Furniture selection, arrangement and room layout
• Lighting scheme design
• Accessorizing
• Purchasing, delivery and installation
• Renovations and additions
• Project coordination and management


_____________________________________________

   FEES  _____________________________________________


Various fee options are available, depending on the nature and size of your project. These include:
• Hourly billing: Suitable for initial consultation and smaller projects.
• Fixed fee: Suitable for smaller projects and those with a clearly defined scope.
• Percentage Fee: Suitable for larger or renovation projects; based on percentage of final costs.

I am happy to submit a formal proposal and contract to define the scope of each project and my proposed approach and responsibilities. For larger projects, a deposit is required to enable me to place orders for materials and furnishings.
Testimonials
I have had the pleasure of working with Roshy Sharifi. Her attention to detail is unsurpassed, her colour sense and artistic flair make a house a home, and her intelligence and business sense create an honest, "no surprise" approach when it comes to business and the bottom line. Roshy's communication skills mean that one is in touch and connected with the process every inch of the way, and her personality makes her a joy to work with. The finished result exudes warmth and personality to everyone that enters the home. I highly recommend Roshy Sharifi. She is hard working, innovative, intelligent and very creative. Darcy McClary, North Vancouver Realtor
"Services offered by Roshy of Magic Spaces far surpassed our expectations. She acted as designer and project manager for the renovation and staging of our apartment in West Vancouver. She was very professional and friendly, and made sure the design reflected our tastes and budget. The project was completed on time and looks just amazing. I will not hesitate to use Magic Spaces again for future projects." Mr and Mrs. S , West Vancouver