Genevieve Gregoire
green designer , home stager , interior decorator , interior redesigner , professional organizer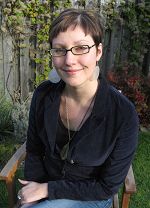 Pointe Claire, QC
514-839-5465
gen_swim@hotmail.com
Better Life = 6 R's

Reduce, Reuse, Recycle in Redesigning, Reorganizing and Redecorating.
I originally come from the swimming world. Competed and traveled the world for 15 years as an elite athlete. I grew up in a Small town just outside the city of Montreal, Quebec, and the main design in my parent's house was Scandinavian modern inspired and trendy for it's time, in the late 70's early 80's. It had lots of teak furniture, shag rugs, and graphic wallpaper. Since I can remember, I've always been thrifty and creative, rearranging and reorganizing rooms in the house. Creativity and functionality are at the root of my Modern Contemporary design flair.
Schooling & Background
After graduating and receiving my Bachelor's degree from McGill University in Exercise Science, I worked as a fitness trainer and swim coach, for a few years.

Two years ago, I decided to take a year off to pursue my passion for design and obtain a certificate from 'QC Design School', and in the process, taught myself how to make quilts, duvet covers, and pillows. For one of my assignments, I redesigned the spare bedroom at my mother in-law's place, using my new skills.

Experience
My experience is limited but I've recently finished redesigning my parent's spare bedroom as my final project. The process was amazing and the results even better. Listening to the 'customer' and really harmonizing everything to give them what they've always wanted, is one of my strong points.

Another project I finished when I first started my class last year was a friends' apartment. Being in a wheel chair, we needed to facilitate his coming and goings. Because it was not adapted to his needs, I did my best to modernize, organize and bring lots of color into his updated and (now) functional place.

My next project will be designing the small loft my boyfriend and I bought. It's being built and won't be ready for a few months. We already have great ideas on how to build extra storage, add modern touches, and really make our first place shine!
Services
My services range from basic home staging, bigger projects like redesigning or decorating, and how to organize any room while being Eco friendly.

If you'd like to contact me for more information, I can be reached by email: gen_swim@hotmail.com

I look forward to working with you.

Gen