Maria Rehan
interior decorator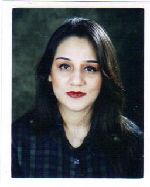 Mississauga, ON
647-669-6955
maria_rhn@hotmail.com
Divine Interiors helping people to achieve a space of their dreams reflecting their style, taste, and personality.
Welcome to Interiors by Maria Rehan.I am a professional Interior Designer and Decorator. Design and decoration has always been my passion. In my role as a designer, my mission is to help clients understand their unique style. I do this by first getting to know each client and identifying their needs, preferences, and budget. A space reflects the style, taste, and personality of its occupant. Wheather its classic, contemporary, traditional, casual, or country style; I can help you in determining your style and then execute the decor of your style and taste within your budget.
I have completed my interior design training from QC Design and Decorating School in Ottawa. I have experience in space planning, furniture layouts, material selection, colour and finishes slection, and design drawings which I have gained by working on a variety of design projects for various spaces. I have been able to complete my projects to the fullest satisfaction of my clients. I have also voluntereed my services for many design and renovation projects.
Services
With my skills and ideas, I can help you create the space of your dreams and help you transform your home into a better place to live. I provide design and decorating services in both residential and commercial projects. You can transform your space in your desired style with the help of my design and decorating services within a reasonable budget. I offer my services in all aspects of design and decor wheather its colour consultation, custom window treatments, furniture layout and selection, or flooring. I can also help you in preparing and presenting properties for sale effectively in an innovative and eco-friendly way. You can seek my services in designing offices, living rooms, dinning rooms, bedrooms, bathrooms, kitches, party halls, restaurants, and cafetarias. You can make your home a home of your dreams through my services.
Allow me to make the decorating process convenient and stress-free.
Testimonials
It was a pleasure having you as our designer. The transformation of our living room is amazing. It truly reflects our style and is beyond what we were expecting. The colour scheme, accessories, and furniture selection is fabulous.
Shahin Jawid
We are so pleased with the makeover of our family room. It is awesome. It suits our need and is perfect for our lifestyle. It feels homey and inviting which was the exact feeling we wanted in our family room and you helped us in achieving that mood.
Mr. & Mrs. Faiz
Divine Interiors helped us in getting the interior that is truly personal and unique. Your decorating work is aesthetically pleasing and cater to our unique taste and daily routine.
Mrs. Douglas