ARMENTI - Staging & Re-Design
Marlina Szarkowicz
home stager , interior redesigner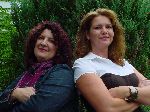 Burlington/Oakville, ON
905-330-8784
armenti@ymail.com
Let us put our knowledge and enthusiasm to work for you. You can be confident that your happiness is our objective. ARMENTI Staging and Re-D
Our commitment is to help you sell your home FAST. As an accredited Stager and Redesign company, ARMENTI Staging & Re-design will treat you and your home with a unique perspective to stage your home and differentiate it from the housing competition in Burlington, Oakville, Georgetown, Acton and Milton areas.
For over 17 years Marlina has worked in the media industry; from studio set up of lighting sets and camera work to managing a programmmng staff of nine. With this experience, she learned what it takes to complete assignments and the importance of deadlines. Through proven methods and techniques she assists Realtors and you as a homeowners to optimize your property.

Donna brings over ten years of hands on home design working in the fields of, new home construction, and drafting and design. Her familarity with home staging enables you to feel comfortable with the stress and upheaval of selling your home. With her expert knowledge of minor repairs and painting jobs, she will create a stress-free experience overseeing the process of staging your home.
Services
ARMENTI Staging offers suggestions to make your home stand out from the rest in today's competitive real estate market by:

 Saving you time and energy. A staged home would be on the market for less time which in turn would be less energy in keeping your home in pristine order for weeks and possibly months.

 On-site consultations of your home. Recommendations on, furniture layout, decluttering, painting and repairs, which you may decide on working on the suggestions provided, or have us complete all the staging.

By dealing with repairs and maintenance during the staging of your home – buyers will not find reasons to make a low offer on your home.



ARMENTI Re-Design will help transform your home by:

 Re-organizing what you have (sometimes using it in different ways), helping you let go of items you no longer need and perhaps improving the lighting and colors.

 We will work with as much of the current furniture and home décor items as possible. We only recommend additional items to be purchased or rented, when absolutely necessary.

 Additional value to your home may be improved with new finishes or furnishings for a completely new look that better meets the needs of you and your family.

 One of the first steps is to evaluate what is working and what isn't in the space. Next, you must be willing to take the important step of parting with items that no longer serve you. If it's something you really like then we will keep it in the redesigned space. You will be amazed by the redesign of your rooms!

An initial two to three hour in-home consultation will help you through this process, focusing on transforming one room or your entire house — it's entirely up to you!