Josee Audet
home stager , interior redesigner , landscape designer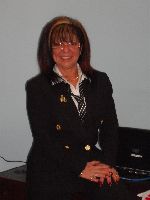 Mascouche, QC
514-686-5232
Topaz_Shadow@hotmail.com
Audet Reno Decor we will help you stage your home and redesign within your budget.
We will work with the home owners every step of the way to discuss short term and long term plans for their homes, we will go over: landscaping, curb appeal, floor plans, color choices, lighting, different room styles incorporate homeowners vision and working within your budget.
Our mission statement: Focused on improving your most valuable asset "Your Home", using a friendly and understanding approach, and working together to get top dollars for your property. We will work with home owners to enhance their existing home for resale or to simply remodel and redesign to give it that fresh new updated look.
We have an in house handyman, who specializes in ceramic, tiles, marble and hard wood flooring he is also a professional painter. Our interior redesign and professional home stager will help you stage your home and property to highlight its best features, making it a dream home, giving it that clean, fresh, and inviting appeal to existing home owners and potential buyers.
A space may look small but by giving it a fresh coat of paint or simply painting the baseboards, rearranging the existing furniture and adding some simple accessories may give the room that larger and recently updated new look. A pristine, comfortable and appealing home does not always have to entail huge amount of moneys, a little imagination and creativity will give great results. This is where Audet Reno Décor steps in and makes your dreams a reality.
Over the years we have created a strong personal bond with trade's people. We will be able to coordinate some major repairs if required with these trades' people. Example: roofers, plumbers, and landscapers.

We make it easy, convenient and affordable.

We invite you to contact us if you have any additional questions or concern.
Services
It starts with a consultation. We will prepare your home for sale with a few simple steps. We will give you a detailed list of things that need to be repaired, painted or fixed. Sometimes just by arranging some furniture or adding an accent piece will bring out a rooms potential to its best, giving it a brighter and bigger appearance. We want the potential buyer to feel at home the minute they walk through the door. It always starts with a first impression.
Every job will be special and unique, including more than one idea per room or space. Audet Reno Décor will supply you with reference letters, pictures of before and after. The end result will be satisfactory to both the client and us.
Our main Marketing will be word of mouth; we want our clients to be extremely pleased with our work they will want to share their experience with friends and family. This allows us to offer competitive prices always keeping your budget at hand.