Virginia Berdan Good Karma Home Staging & Design
home stager, interior decorator, interior redesigner, professional organizer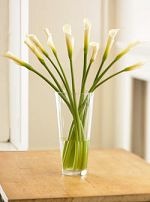 South Florida, FL
Whether you are "Staging to Sell" or "Redesigning to Stay", YOU DON'T NEED TO BE A MILLIONAIRE TO HAVE YOUR HOUSE LOOK LIKE A MILLION BUCKS!
Good Karma Staging & Design ~ Providing Professional Home Staging Services & Creative Design Ideas for the South Florida Area.

While I have only recently graduated from QC Design School, I have been a student of interior design and staging my entire life. I just never knew there was a career title for what I was doing as a hobby !
My passion for design and staging began when I was just a little girl. I was always re-arranging furniture, decorating and redecorating my room. It was never a chore to clean and put things away, but rather incredibly fun to me !

As an adult, it turns out I am still doing the same thing, but now to the entire house !! Seeing a "vision" of what a room "can be", and then making that vision come to life ! Painting rooms, re-arranging furniture, shopping for the perfect accessories, and then moving it all around until I know it is "just right". It isn't done, until it is "pefectly balanced and aestically pleasing".

"Choose a job you love, and you will never have to work a day in your life. ~Confucius "
Services
Whether you are "staging to sell" or "re-designing to live", a home reflects the people that live in it. It has always been important to me to create a cozy, warm, welcoming home. However, like many of us, we find we are on tight budgets. I have mastered the art of QUALITY affordable shopping. Let me turn your lackluster home into a work of art, while not spending a fortune !

HOME STAGING - "Decluttering, Depersonalizing and Decorating to Sell !" In order to create a lasting impression and ensure the highest prices possible from prospective buyers, it's extremely important that your home look its very best-inside and out. That's why most Realtors recommend "staging" when trying to sell. Staging is the process of enhancing ones home for a quicker and more profitable sale. By using proven home staging methods, we are able to make your vacant or occupied property stand out from the rest and SELL FAST !

Occupied Home Staging - After living in a house for a number of years, homeowners develop a personal style that suits thier own tastes and lifesyles. While it is great to personalize a home for living, it is not great for selling your house. We will declutter, depersonalize, decorate your occupied home and redesign it in a neutral, streamlined manner to appeal to as many buyers as possible.

Vacant Home Staging - Many people assume that they will have an easier time selling thier house if it is vacant. This is actually quite the opposite ! Most buyers have trouble envisioning a warm home, and where furniture should go when looking at empty rooms. We can use your own furniture or rent furniture to stage to help buyers feel comfortable and to see the potential of a room. Let us completely furnish and stage your empty property to make it feel like an inviting home, and sell much quicker than if it was empty !

[R]REDESIGN[/R] - "DECORATING TO LIVE!" ! Changing simple elements such as paint color, artwork, and accessories can completely transform your house into a gorgeous, comfortable, aesentically pleasing home ! Let us affordably bring your out of date rooms into 2010 with the hottest colors and accessories - whether your taste is neutral or bright, we have solutions, ideas and options for everyone !

Whether "staying" or "selling" my specialty is taking someone's house, no matter what the condition and economically creating a warm, organized, aestetically pleasing, comfortable home that you can be proud to to live in, or sell quickly !
Testimonials
I approached Ginny Berdan to help me decide on a color to paint an accent wall. After looking at my furniture, she zeroed in on a very appropriate color. After painting, and on a very limited budget, she transformed my townhouse from a generic, boring white set of rooms to a warm and inviting atmosphere. Working mostly with items I already had, she coordinated the placement and color coordination of furniture, accent rugs, and artwork, making a dramatic difference. George Frank, Esq.