Linda S. Cefalu
color consultant , home stager , interior redesigner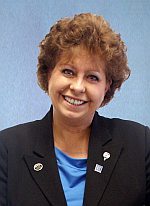 Wind Lake, WI
262-492-2808
lcefalu@wi.rr.com
CHANGE THE LOOK THAT COULD CHANGE YOUR LIFE!
When I was 8 years old I helped my best friend re-arrange her room and her mom was amazed. When I was 12, I painted my first room. MY BEDROOM. Mom wasn't too happy but dad was proud. Once finished, mom never lifted another paint brush.
My talent for creating and decorating has been a part of me from a very young age. My passion is to help you create the room of your dreams on a budget you can afford. No need for a Hollywood designer here. Together we can bring to life the look you dream of having. From the most whimsical to the most sophisticated design that your heart desires, together we can accomplish it.
TRYING TO SELL YOUR HOME? I am an experienced real estate agent that can give you the added value of my experience in what buyers are looking for. Today most buyers are looking for a new home on a used-home budget. Let's give those buyers what they're looking for. Together we can stage your home in such a way that will not only attract buyers, but make it stand out from the rest and get that home sold!

Planning a party? Need help bringing that theme together?
Services
My pledge is to provide you with professional service with a dash of fun.

Staging
Decorating
Consultation
Re-design
Organizing
Planning
Testimonials
I've known Linda Cefalu for about 7 years and when we were antique dealers together at Freddy Bears in Waterford WI, she always had the most detailed and eye-catching booth in the place. On the days I would work behind the counter, customers commented constantly about how lovely, clean and unique her booth always looked. Everything was always arranged to showcase each of her items and she uses color so well. She's got a good eye for balance and style and it shows! Miki Larson