Rachel Frederick
interior decorator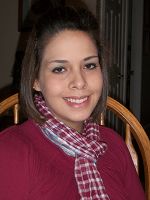 Macungie, PA
610-965-2477
dreamdecordesigns@hotmail.com
I can take your dream design and turn it into a "living" room!
I am a designer who loves taking a boring and plain room and turning it into a dream room of color and character! My desire is to see every room reach its full potiential and compliment its owner. Whatever you dream can and will come true.
As long as I can remember I have loved designing rooms! I've always been one who has noticed colors, decor, and style in whatever room I am in. Design inspires and excites me and it has become my passion! I've taken the Interior Design course at QC Design School of Maryland and I am planning to further my education by taking more design courses at this school. My experience with interior design is growing. I have decorated a school principal's office, a home foyer, and a couple of bathrooms. I can not wait to decorate more rooms!
Services
I will help clients decide the theme, design, color scheme, and decor that will make there dreams come true and then I will bring it to life in their home.