Gail Hagan
home stager , interior redesigner , professional organizer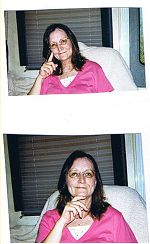 Ennis, TX
469-383-0447
gailhagan1@yahoo.com
Home staging and decorating sensibly with Gail.
I will help/assist you to decorate/stage/organize your area and make you happy without over spending. I keep as much of your items as possible depending on the design that you have chosen. I will be at the jobsite overseeing every aspect that needs to be taken care of until the designing/staging/organizing job is completed. I will always be available to answer any questions that you may have.
At QC Design, I had studied to become a certified home stager, interior redesigner, and a professional organizer. I also have my Masters degree in technology which includes different aspects of applying design through the use of technology. I have applied my skills over the past twenty years. My skills include cleaning and organizing my own as well as others spaces: staining and refinishing and painting items; painting and wallpapering walls; sewing, building/making items needed in the design, etc. I have had the opportunity to assist in decorating and staging family and friends homes. I have also worked in designing gardens, yards, and items that needed to be built/fixed to add protection and/or design elements to most any outside areas; which also include putting siding onto my home; building a dollhouse for my grandchildren; putting in new windows in my home; putting up a fence in my yard; and many other needed items that had to be done.
Services
My services include a priority to make you, my client, happy with my work. I will discuss every aspect with you to make sure that we are both in agreement to what is actually wanted in the designing of the area. Those aspects include everything such as room design, furnishings, room color, layout, furniture, accessories and anything else that is appropriate for a great design/staging for your area. I will work diligently to stay on budget: however if there is a change that you want, we will discuss all details in regards to those changes before the changes are applied. When I visit you and/or the area to be designed, I will not always be on the clock. I need to talk with all workers that are performing the jobs to make sure they are working according to the instructions. I also will be in constant contact with you to make sure you are happy with all and anything that had been done up to that time. I never want you to feel that I do not care about your opinions in regards to any of the decorating/staging that is being done.
Testimonials
I do have some decorative skills however Gail has helped me to expand and use them. She had applied her skills to several rooms in my home and now my home feels great. In some of the other rooms she had given me suggestions that had worked out great for me. In the past I did not like my house very much, but today I just love hanging out there. Thanks Gail for all your thoughtfulness. Nolene Michigan
I believe that I have great decorative skills. Gail had helped me to expand my skills. Together we have decorated several rooms of my home and I just love them. She had also helped me to design my outdoor space so that I could better utilize the different areas. Thank you Gail for all your help. Jan Illinois
I do not have very good creative skills. Gail had come into my home and stayed on budget. She helped me decide on an appropriate color for several rooms that had joined together and they balance harmoniously. She also suggested some great accessories, window treatments for me to use and furniture layout that makes my house feel like a home. Thank you Gail for listening and applying what I had wanted for my home. Cari Michigan
See All Testimonials