Tiffany Parker
home stager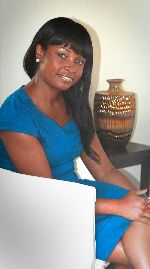 Washington, DC
202-431-1229
tiffany@parkerinteriorsdc.com
Parker Interiors is committed to helping our clients achieve their mission by designing interiors that deliver. Whether our client's goal i
A staged house sells, on average, 17 percent higher than an un-Staged house, according to U.S. Housing and Urban Development. Parker Interiors can improve your curb appeal to potential buyers by highlighting your property's natural beauty through skilled use of new and existing furniture, color and accents.
Our goal is to Stage your property so that buyers can visualize themselves living there. After Staging, your home will appeal to the largest number of buyers by reducing its flaws, focusing on its attributes, depersonalizing, decluttering, cleaning and improving outdoor landscaping where it counts most.
After ten years of marketing and communications experience in public and private sector environments, Tiffany Parker is pursuing her passion of staging and interior re-design.

Ms. Parker brings a diverse set of skills and expertise to home staging and redesign.
Throughout her career, she has helped organizations grow and move forward by leveraging best practices that add value and advance organizational missions. "Staging, especially, is not too far removed from marketing and strategic communications. At its core, staging is about communicating a house's potential to home buyers and then marketing it in a way that appeal's to potential buyer's fundamental needs. "

Ms. Parker has extensive experience in initiating and leading efforts to build organizational capability and improve communications infrastructure. Ms. Parker's areas of expertise are communications strategy, outreach and communication tools and techniques. Prior to starting Parker Interiors, she was an Associate with Booz Allen Hamilton. She was also employed with DTI Haverstick consulting, Rexahn Pharmaceuticals, Philip Morris USA and the Department of State.
Services
Staging Vacant Residential Properties
Staging Occupied Residential Properties
Staging Commercial and Public Spaces
Staging Furniture Rental

Homestaging
Home staging prepares a property to sell quickly by making it appeal to the highest number of potential buyers. Parker Interiors will stage your property to appeal to the largest number of buyers reducing the home's flaws, focusing on its attributes, depersonalizing , decluttering and cleaning and improving outdoor landscaping to get buyers indoors.

We stage properties so that buyer can visualize themselves living or working there. We focus only on the visual assets that yield the highest return. Our goal is to sell your home quickly, and for the most money possible by making it appeal to the highest number of potential buyers.

Staging Commercial Properties
Commercial properties are increasingly turning to staging to increase the marketability of properties. Many property owners and managers are hiring staging consultants to help set their commercial properties apart. Whether staging a lobby or reception area, cubicle configurations or executive offices, staging operates for commercial properties the same as it does for residential: as a tool to help prospective tenants envision themselves in the space.