Kimberly Martin
interior decorator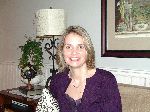 Elmira, ON
519-669-3055
kimmartin@live.ca
Creating a lavish design without the lavish price.
I am a person who is trained in finance but I am also very creative. I understand the desire to have a home that reflects your personal style and creativity without destroying your family budget. This is a balance I have used in my own home as well as in the community as a volunteer on design committees and when I help friends with their design needs.

It is my goal to achieve this balance in your home by using what you have and love at the same time replace what doesn't work with quality pieces that will last for many years as well as using reclaimed pieces fit your budget.
BACKGROUND:

I have always enjoyed designing. As a child I drew floor plans for my dream house and I was always redecorating my bedroom. As an adult I have been involved with so many types of design from set to interior, landscape and special event design. I would like to narrow that down now to interior and help others enjoy the beauty of a well designed space.

EDUCATION:

I received a diploma from Sheridan College in Business Administration, Accounting
I have taken the Interior Decorating course from QC Design School


EXPERIENCE:

I served on design committees for our local church, and public school.
I decorated for a number of special events such as Graduations, Prom, weddings and showers.
I served on several drama teams that were responsible for designing the sets.
I remodelled an entire cottage.
I designed a Bunkie and decorated it.
I designed bedrooms and living rooms for family and friends.
Services
My initial fee is $300.00 for two visits. The first visit is for the consultation. I will measure the room and fill out a client profile. I will than prepare a sample board and floor plan which is than presented to the client at the second visit. The client will then decide if they will proceed with the job on their own or if I will do the work for them. The addition work will be billed at an hourly rate.

I will be servicing the Woolwich Township area including Elmira, St.Jacobs and North Waterloo.