Darlene Dupuis-Woelk
home stager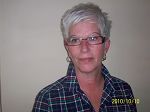 London, ON
519-434-8606
darlene.woelk@hotmail.com
STAGING MAKES SENSE INTO DOLLARS
My name is Darlene Dupuis-Woelk I live in London,Ontario.

I have worked for a company here in London for the past sixteen years, like lots of people out there their jobs are being lost,hours are getting less,I also have found that my hours are getting less,so last fall I took the QC Design course and have never looked back.

I enjoy redecorating my home and friends homes,I love to see the end result.
I have been asked by friends/family to help get their home ready to sell,well after the decluttering process,then the fun starts.

The staging of the home, I ask what stays what goes,I work hard to use all the furniture and accessories.
Received my degree in buisness Have managed several business,work well with others,I always stress that team work is so important to get the job done and get it done right.

I have experience in decluttering homes,staging homes f,or family and friends.

And if painting is required I do that too.
Services
The services that are provided are decluttering the home,staging the home for sale.

Will help to set up the new home if required.
Will arrange the move to make it easy for the client.

Will help set up garage sale if needed.

Will help locate storage spots.

Will shop if needed.

Will help with the decluttering if needed.

Will do or arrange for any repairs that are needed for the staging of the home.

Curb appeal if needed

Will travel in the London,Woodstock,Sarnia areas.