Jennifer Campbell
home stager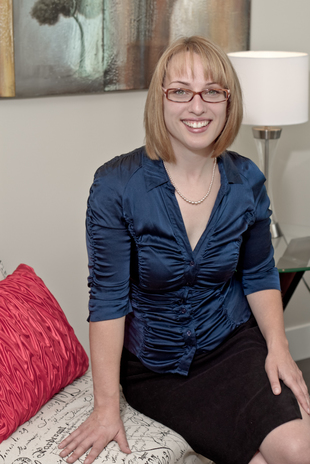 Calgary, AB
403-968-7766
jcampbell@setyourstage.com
Helping you showcase stunning listings that appeal to buyers.
Set Your Stage is a professional home staging company that can help you transform your listing into a stunning show-able and sale-able show-home. Home staging isn't decorating or personal taste, it's a key marketing tool sellers use to get their properties SOLD! That's why professionally staged homes show better than unstaged homes; they are designed for the buyer. Your short term investment in home staging is less than a price reduction and it's listed in HomeGain's Home Sale Maximizer Guide as one of the top five home improvements for 2012 for sellers (196%).
My name is Jennifer Campbell (but everyone calls me Jen) and although I am a young home stager in my early 30s, I've been working at my staging career for over 25 years. I drove everyone nuts when I was a kid with my constant tidying and organizing. In grade one, horrified to see that the kindergartens didn't properly organize their shoes, I stormed into their classroom with my hands on my hips and explained the importance of neatly placing their shoes on the shelving instead of in a chaotic mess on the floor. Of course, I am no longer that dramatic (although some stagers/decorators seen on TV can be).

At 16, I learned how appearance and condition affect the value of an item for sale. I purchased my first car (a red Toyota Tercel) for $2,000, cleaned it up, replaced the windshield, battery and stereo and sold it a year later for $2,500. Pretty good for an investment that depreciates in value.

In 2006, my brother and I purchased our first "fixer-upper" and transformed it into a dream home during our spare time. For anyone who has or is going through renovations, I know what you are going through. It isn't easy, but the short term pain will be worth it.

During my first career in the design industry, I created marketing materials that were visually appealed to customers. Although the industry was creative and exciting, my heart longed for more. With my professional design and personal renovation experience, I decided to take a risk and make home staging my career. Successfully completing QC Design School's International Staging & Redesign Professional home staging course gave me the knowledge and skills necessary to start my own home staging company.

Not only do I to help home owners showcase show-able, sale-able and stunning listings, but I also teach Realtors "The Basics of Home Staging" at CREB (Calgary Real Estate Board).

If you would like to meet me in person, please contact me. I'd love to meet you!
Services
DIY Home Staging
Coming from an avid do-it-yourself family, I understand how rewarding it is to complete a project on your own. There's lots of advice from TV, books and the internet, but where do you start? Learn more about DIY Home Staging.

Lived-In Home Staging
Everyone has such unique and creative ways of expressing themselves in their homes. Unfortunately the way we live in our homes is different than the way we sell homes. 90% of buyers cannot visualize tweaks in furniture placement, paint or personal decor. It's easy to know what works for you and your family, but what will work for the buyer? Learn more about Lived-In Home Staging.

Vacant Home Staging
Selling a vacant property is one of the most stressful things any seller can put themselves through. Some of the most stunning properties can sit on the market for months at a time. Not only do buyers have difficulty envisioning where they can place their belongings, but vacant spaces seem smaller, cold, empty and life-less. The solution is simple: welcome your buyers in with staging. Learn more about Vacant Home Staging.
Testimonials
We listed our vacant home and were receiving little interest. It quickly became apparent that people who viewed the home were unable to appreciate the scale of the empty rooms and how they might place their furniture in them. During the hour or so that I spent with Jennifer for our initial consultation I learned more about how to present a home for sale than I learned in five months of working with a realtor. In a thoughtful, patient and appropriately forceful way she helped me understand what needed to be done and graciously answered my questions. We chose to stage the kitchen, living room, dining room, family room, three washrooms, and five bedrooms. The potential of the home was instantly obvious. My wife and I saw potential that we hadn't seen in the 23 years we lived in the home. The response to open houses and the number of viewings improved dramatically. Within two weeks we had sold the house for a price that we were happy with. In our minds, spending less than $5,000 to create strong interest in our home which sold for around $800,000 was an excellent investment. Staging the home helped us feel confident that potential buyers would really want the home. This strengthened our bargaining position when the deal was being finalized.
Calvin G.
Obviously, offering just a big space was not good enough to attract more potential buyers. Staging had completely changed the impression of the apartment. Suddenly the apartment became "alive", a place to live in... Staging showed all possibility that could be done with the space, giving a chance to the viewers to imagine own furniture there, to imagine living there. The feedback from the people visiting the apartment after staging was very positive. What to say? Two completely different stories. 1. Before staging = wasted 3 months 2. New realtor + staging = received two offers, sold in about 5-6 weeks
Home Staging Client
I have never worked with a professional stager before but Jennifer made it not only easy but comfortable. She was willing to listen and work collaboratively with me. She appreciated that my style was unique to me and was pleasant, friendly and helpful. Most of all she made my house feel like the home of anyone's dream. In fact all 5 people who viewed the home on the first day of listing made an offer and we sold the house only 3 days later. Fantastic result! I would highly recommend Jennifer to anyone and call upon her myself again.
Sonia & Berto D.
See All Testimonials