Josie Fenotti
color consultant, home stager, interior redesigner, professional organizer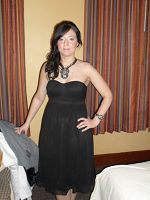 Burnaby, BC
778-822-8969
jfenotti@gmail.com
First Impressions are Lasting Impressions
Make a lasting impression by giving clients a space that is unique to each individual budget and lifestyle. My goal is to help turn home browsers into home buyers.

Home staging is the process of preparing your home for the market place. I will assist you in selling your home in the shortest possible time and for the highest price possible.

Every since getting into the real estate market myself and selling my own properties, I've learned the importance of staging. Staging provides a huge edge over the competition in a competitive real estate market. In today's real estate market it's important to stand out.
With having personal experience with buying and selling properties of my own, I've realized how much I loved the process of home staging. This inclined me to pursue schooling in staging and chose QC Design to help me get the education I need to get me in the position where I can do this as a life long career. Home staging gives me the opportunity to put my artistic/creative tools into work. It also gives me great pleasure to be able to help others with this.

My goal is to enhance the quality and function of interior spaces, responding to all of the needs of my clients.
Services
Organization – Help organize & re-use/design existing furniture
De-clutter rooms - Using existing furniture or renting and get ready for selling
Colour Consultation – If colour changes are needed to coordinate with your furniture and décor pieces.
Open House Prep – Set up for open house. Making sure every room is dressed to impress
Personal Shopping Services – Will shop for décor pieces that may be needed to achieve a new/updated look within your budget.
Curb Appeal – Cost effective, easy/quick updates, such as adding pots at the front, cleaning up sidewalk cracks, etc.
Furniture Placement – Space is maximized and that each room flows with ease and easy movement.