Deborah Kennelly
color consultant, interior decorator, landscape designer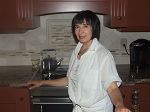 Sudbury, ON
705-674-8944
deb.kennelly@persona.ca
Amaryllis Design
"Radiant Beauty for your Home"
Hello, I am Deborah Kennelly, creator of Amaryllis Design. New colors, new accessories, or a couple of new furniture pieces may be exactly what is needed to give your living space a new and fresh update! Working with what you have, I can suggest alternate furniture placement, add new colors and accessories, suggest new furniture pieces, or change a window treatment. Alternatively, I can create a complete re-design to give you the living space of your dreams!
I am a Professional Color Consultant (PCC), a certified Interior Decorating and Design Professional(IDDP), and a member of the Canadian Decorators' Accociation(CDECA). A former Ontario school Principal, I have a long held passion for color, decorating and design, working both in my own home and in the homes of family, neighbours, and friends. I come to my creative side through a love of nature, gardening, garden design and music. I can design your outdoor landscape and garden as you can view from my portfolio. Amaryllis Design is anxious to find expression by creating 'Radiant Beauty for your Home'!
Services
Color Consultations
Room Furniture re-arrangement, and Accessory placement, new purchase suggestions
New room designs
Garden and landscape designs
Testimonials
"Deborah should pursue interior design. I was most impressed by the work she did in her kitchen. We worked together to create the unique backsplash in her kitchen which fit in perfectly with the warm rich colors she had used and the old world feel she was creating in that room."
C. R., Sudbury, Ontario
"Deborah has a real talent for color and furniture placement. I called her to help me after seeing what she did in her own home. She has a knack of putting things in exactly the right place."
Mrs. F. A., Sudbury, Ontario
"Deborah has a real talent at creating beauty in her own home and garden. I call on her opinion every time I am planing major changes to my own home. Deborah chose exactly the right artwork to set the tone in my new beautiful bathroom. The artwork dominates the room in exactly a good way."
Mrs. J. F., North Bay