Becky Toups
professional organizer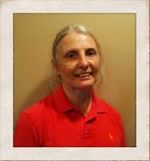 New Orleans, LA
504-256-4074
betoups@yahoo.com
LET OUR PROFESSIONAL TEAM GIVE YOUR HOME AN ORGANIZATIONAL MAKEOVER. WE HAVE THE TOOLS
TO GET YOU BACK ON TRACK!!!
Hi, I am Becky Toups from Harahan, LA just outside of New Orleans. I have been in the interior decoration business for years serviceing Hammond, Baton Rouge, and the New Orleans metro area. Recently I have decided to make Professional Home Organization a full time career. I can get you your space back!
I have successfully converted a dysfunctional bedroom into a fully functional home office. I also have experience in converting extra rooms into nurseries for those mommies to be. I can help you convert your cluttered room into the room of your dreams.
Services
Residential:
Closet Organizing
Kitchens
Garages
Attic Organization
Home Offices
Packing and Unpacking
Estate Management
Holiday Help
Errand Running
Staging Real Estate

Business:
Public Speaking
Office Organization
Event and Meeting Planning