Christine Corbiserie
professional organizer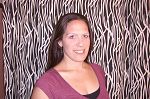 Maywood, NJ
201-370-9165
corb51@hotmail.com
Manage your time and organize your life!
My name is Christine Corbiserie. I currently hold a masters degree in Speech Language Pathology. I am a Professional Organizer whose aim is to help others organize themselves and their families to improve their lifestyle.
I have experience organizing homes and businesses. Organizing has always been a passion of mine. Although organizing takes time the benefits of having a more organized lifestyle are priceless in the end.
Services
As a Professional Organizer I can provide such services as: organizing different areas within your home or office; organizing a schedule of events; organizing paperwork/bills; etc. I can provide you with an initial consultation to identify your area of need, the goals in which you envision and the plan of action. No job is ever too big or too small. I am willing to work together as a team to achieve the more organized lifestyle you deserve.
Feel free to contact me if you are located in the Bergen County Area:
201.370.9165
and/or
corb51@hotmail.com (please put "Organizing" as the subject line so I know not to place in junk mail)
Testimonials
My name is Jaime. I'm 24...and I have a messy closet. Those are words I always imagined I'd have to mutter one day after someone found me buried for 3 days under my closet full of clothes and useless accessories. But after Christine's help, and watching a season of "Hoarders: Buried Alive", I knew it was time to purge my closet from high school clothes and sorority sweatshirts. Christine and I met in January, after I started my new job. I replaced a teacher that had been teaching for 25 years. My classroom was filled with 25 years worth of materials, copies, dittos, and homemade manipulatives. Christine was in her element, and volunteered to help me clean this classroom and bring it into the 21st century. With her help, we were able to turn a classroom with 2 closets full of papers, into an open space with one closet with room for even more storage. After seeing her work her magic, I volunteered my home closet for her diagnosis and treatment. I had just moved into my apartment a few months prior, and I knew those "don't bother" boxes were on her hit list. For some reason, unpacking boxes seemed like a never ending project. I never had enough time to find a place for everything, and it was always just easier to leave the boxes for a rainy day. The first thing she made me do was face my mess. Within minutes, everything in my closet was all over my living room. Too small shirt...give away. Old sneakers...throw away. Blue wig...keep(duh!) Christine kept me on a tight schedule, which is exactly what I needed. Thanks to her generosity and creative ideas, we organized my closet and I have room for more! I even found clothes that I forgot I had! It was like Christmas!! "Clean up by Christine" was a total success! Thank you, Christine!! :)
Jamie H.