David Ian Campbell
interior decorator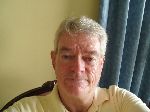 Mississauga, ON
905-629-4019
campbelldi@rogers.com
Specializing in space planning and arrangement.
My specialty is in planning your furniture arrangement, accessories placement, traffic flow and room balance. Colour coordination of fabrics, wall treatments and flooring may be included.
I have post secondary education in Teaching as well as a Master's Degree in Library & Information Sciences. This propensity to be organized spatially lends itself well to planning and executing the best possible interiors for clients. A strong sense of colour coordination is a natural asset when arranging the final "look" of an installment.
Services
Reviewing Floor Plans with clients.

Arranging furniture and accessories on a floor plan to show clients the best possible use of their current possessions and what areas lend themselves to new purchases. Traffic flow and efficient use of space is my specialty.

Providing detailed floor plan drawings, 2-3 dimensional and colour enhanced elevation drawings and renderings enable my clients to visualize the finished product.

Coordinating a colour scheme which enhances the floor plan and arrangement of furnishings/accessories.